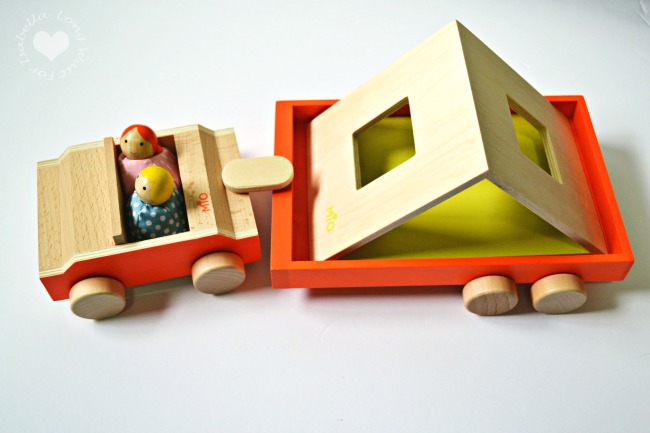 There's just something awesome about wooden toys. We honestly love them in our family. These wood toy sets from MiO area thing of beauty, friends. They really are. Well-made, bright colors, and the ability to just play — no plugs, batteries, or complicated instructions required.
[Tweet "MiO wood toys: no plugs, batteries, or complicated instructions required!"]
MiO Car
The MiO Car + 2 People set features a brightly colored wood car that fits two MiO people or animal characters. Included in the set are two people dolls with hand painted wood heads and soft beanbag bodies. The MiO car features trailer hitch capability for towing the MiO trailer (sold separately).
This wooden toy car with people is only $22!
MiO Camping Set
The Camping + Bear set features a mix of natural and brightly colored wood pieces. Open-ended play is easy to achieve with the simple wooden shapes and adorable bear doll character. The friendly bear has a hand painted wood head and beanbag body. Set includes 1 tent structure, 8 cubes, 1 MiO beanbag bear + drawstring storage bag.
This camping set is only $16!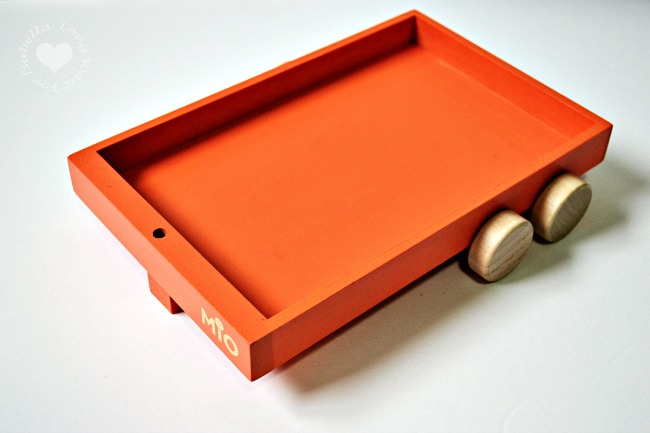 MiO Trailer
The MiO Trailer is the perfect add-on to your MiO vehicle collection. MiO rooms, lofts and tents fit neatly on trailer bed. Trailer connector allows trailer to be towed by all MiO vehicles.
The MiO trailer is only $14!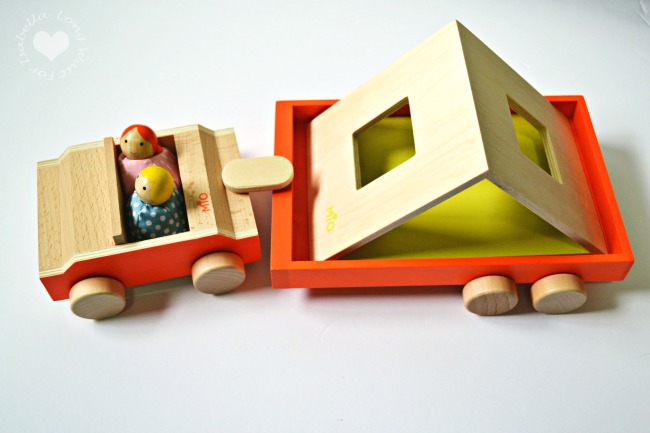 About MiO
There are 10 different items in this MiO wooden toy line to fit every budget and need (even stocking stuffers!). Creative Child magazine happily crowned MiO with its 2016 Toy Of The Year Award in the Open Ended Play category.
National Parenting Product Award (NAPPA) reviewers played with the many pieces, then gave the captivating set its 2016 top prize. "Why we like it: It's so refreshing to get back to the basics of play with this beautifully crafted doll house set. The pieces are great quality and the design is very modern. Solid pieces are easy to build with, giving architects-in-training endless possibilities!"
[Tweet "We are profoundly influenced by the toys we play with!"]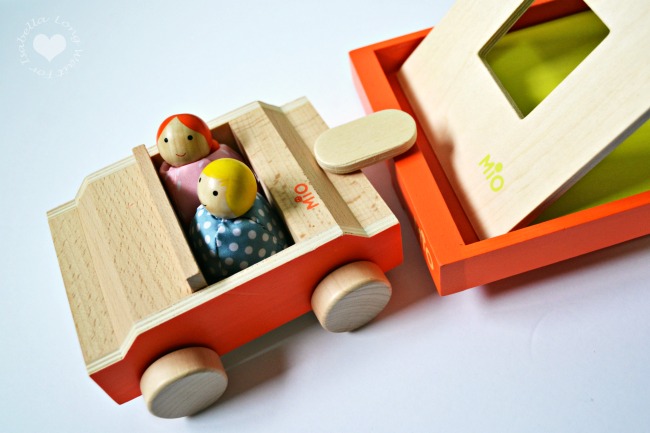 MiO strives to use wood from sustainable forests for all of their wood toys. They also utilize thoroughly tested, water based paints on all wood toys.
Put them all together and it's more fun! Gender neutral, imaginative, open-ended play — with sets so beautiful, you can leave them anywhere in the house. These are a big win this holiday season for our family. You don't see my son in these photos because I am going to wrap them up! There too lovely to spoil the holiday surprise for him!
[Tweet "MiO Wood Toys: Gender neutral, imaginative, open-ended play!"]
Here's a very well-done stop motion video to check them out more closely:
[Tweet "We remember that the most powerful thing any of us play with in this life is our imagination."]
Connect with Mio
Faceboook | Twitter | Instagram | Pinterest
Win Mio Wooden Toys
One lucky Long Wait for Isabella reader will win anything from the MiO set (except the $100 set, sorry folks!). Simply enter the Rafflecopter form below with your Facebook account or email address for your chance to win. Open to US residents 18+.
Disclosure: This is a sponsored post. All opinions are mine alone.