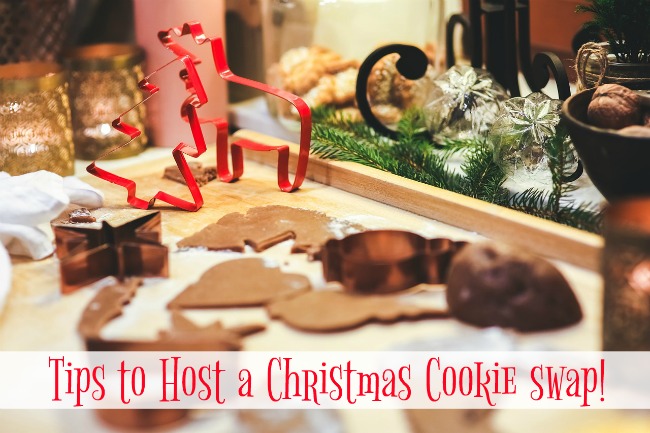 Are you hosting a Christmas cookie exchange this holiday season? For the third year, I am on our church's women's ministry team and we love to host a Christmas cookie swap with the other ladies at church. It's a fun excuse to get together for brunch. Plus, we get to bring home 1-2 dozen cookies to our family for the holiday season. Yes, I know we don't "need" dozens of cookies in our homes, but we've also given them as gifts to the neighbors or brought them to the local fire department. 
Important Tips to Host a Christmas Cookie Swap
Send Invitations Out Early
Although it's recommended that you send out invitations at least six weeks early, it isn't mandatory. Inviting guests ahead of time gives them the opportunity to figure out which cookies they want to bake. So, the more advance you can give, the better. We like to simply use Facebook to create an event and let it be public for our church. But you could use Facebook and privately invite your girlfriends to a home. 
Encourage Creativity
Since it's your party, you get to make the rules. Encourage participants to bring homemade cookies or other treats. While basic cookies are suitable, suggest that your cookie swappers whip up something a little more advanced. 
How many cookies should each person bring? It's up to you to say. However, the average request is two dozen per person. Obviously, the total number of cookies, along with any stray baked goods, get divvied up equally between the host and all of the guests.
Require Guests to RSVP
Not only does asking people to RSVP give you a good idea of who's going to attend, it also helps to eliminate the possibility of duplicate cookie recipes. The whole idea behind the swap is variety! Include a note in the invitation asking guests to let you know what they're bringing as soon as they figure out themselves.
Set Up a Separate Buffet Table
To make things easier, set up a separate buffet table for all of the cookies your guests prepare. If you don't ask everyone to bring their own take-home containers beforehand, you need to provide some type of inexpensive bakery boxes or something similar for guests to transport their goodies back to their residence.
Vote For Your Favorite Cookie
One other tip I'd like to give is to offer gifts for most creative and prettiest cookie. When there's a competition involved we've found that more people are apt to come with great cookie ideas. That means setting up a simple voting station with slips of paper and pens nearby. Encourage the attendees to vote and at the end of the evening the winner gets a fun gift. Often that is a fun cookie cutter, mug, and hot chocolate.
Christmas cookie exchanges are fun and easy to host. At the end of the evening all your guests simply go home with the same amount of cookies they brought.
What other tips can you add to hosting your own Cookie Swap?
Pin it for later:
You might also like: