We love great Christmas books here in the Long house. In fact, this month we got six new books from Zondervan for Christmas and my kids could not be happier. New books = happy kids! Any of these books would make great gifts. In fact, you could also use these books for an Advent Countdown.
Six Great Christmas Books for Kids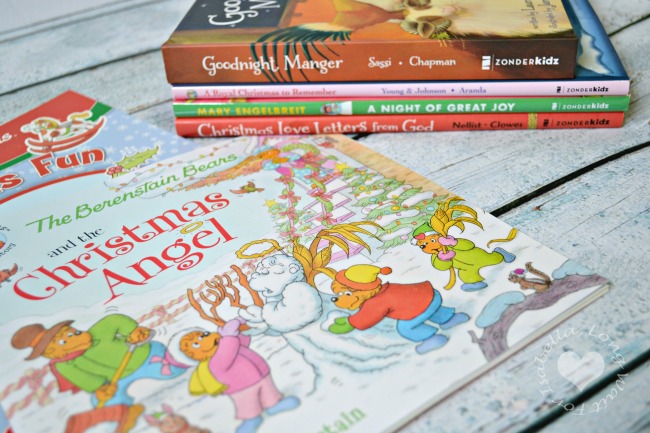 The Berenstain Bears and the Christmas Angel
Author/Illustrator: Mike Berenstain
Description: In this newest Berenstain Bears Living Lights book, Brother, Sister, and Honey are in a hurry to get out into snow-covered Bear Country to build a snowbear. But when Honey gets bored and makes a snow angel, Brother and Sister have a better idea! The cubs make a Christmas Angel, and get a little lesson about God's angels from Mama and Papa Bear.
The Berenstain Bears Christmas Fun Sticker & Activity Book
Author/Illustrators: Jan & Mike Berenstain
Description: The Berenstain Bears come to life with puzzles, activity pages, and stickers in the newest Berenstain Bears sticker and activity book—The Berenstain Bears' Christmas Fun Sticker and Activity Book. Celebrate Christmas fun with the Bear family and their Bear Country friends and neighbors.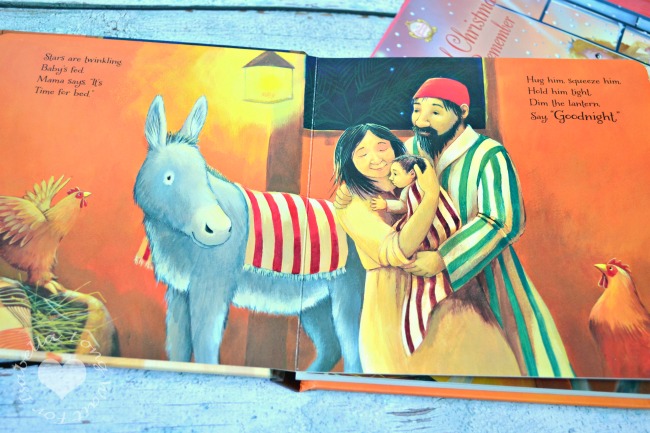 Goodnight Manger
Author: Laura Sassi Illustrator: Jane Chapman
Description: Goodnight, Manger, written by Laura Sassi and illustrated by New York Times bestselling artist Jane Chapman, tells the story of Mary and Joseph as they try to get Jesus to sleep in the noisy stable after his birth. Told in gentle, lulling rhyme, Goodnight, Manger is an adorable and tender bedtime story, for Christmas or any time of year.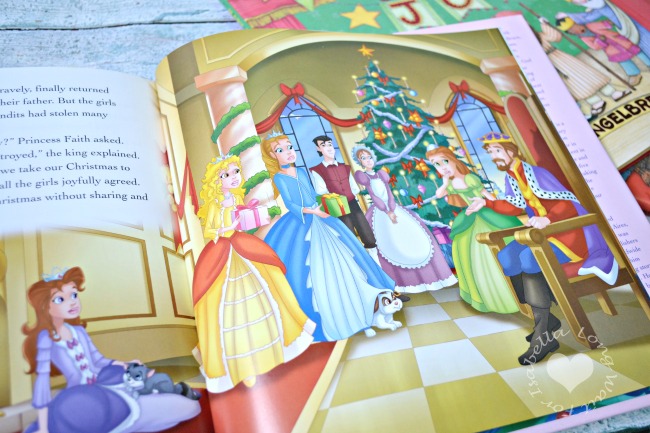 A Royal Christmas to Remember
Authors: Jeanna Young and Jacqueline Johnson Illustrator: Omar Aranda
Description:With the arrival of the most spectacular winter season in years and Christmas only a night away, Princesses Joy, Grace, Faith, Charity, and Hope find themselves in the midst of a dramatic scene that includes bandits, a rescue, and a royal Christmas celebration of family and God's love.
A Night of Great Joy
Author/Illustrator: Mary Engelbreit
New York Times bestselling illustrator Mary Engelbreit presents A Night of Great Joy—a delightful picture book that celebrates the season and tells the story of the nativity through the performance of the children's Christmas pageant. This book celebrates diversity by featuring child character illustrations of many races and ethnicities. Booklist says Engelbreit's A Night of Great Joy is "a colorful picture book will please her adult fans while pleasing many children."
Christmas Love Letters From God
Author: Glenys Nellist Illustrator: Rachel Clowes
Christmas Love Letters from God, written by Glenys Nellist and illustrated by Rachel Clowes, is a whimsical collection of seven beloved Bible stories that focus on the birth of Jesus and include love letters from God written especially for the young reader.
Pin it for later: 
About Zondervan
Zondervan, part of HarperCollins Christian Publishing, is a world leading Bible publisher and provider of Christian communications. For more than 80 years, Zondervan has delivered transformational Christian experiences through its bestselling Bibles, books, curriculum, academic resources and digital products. The company's products are sold in multiple formats, worldwide in more than 60 countries, translated into nearly 200 languages.

Connect with Zondervan
Win a Zondervan Christmas Book
One lucky Long Wait For Isabella reader will win one of the above Christmas books (your choice!). Enter the Rafflecopter form below for your chance to win. Open to US residents 18+.
Disclosure: This is a sponsored post. All opinions are mine alone.