Growing up, Thanksgiving was at the top of my list for favorite holidays. We used to rent our local gymnasium and have our very large extended family on our reservation and even family from other nearby reservations come and eat and play games — like basketball, pickle ball, and volley ball. We'd bring stacks of board games and there was an entire table devoted to dessert.
Our family Thanksgiving dinners have gotten smaller over the years, and we have actually started traveling more during this holiday. But this year, travel plans fell through (twice!) and we are staying home. I like to help my mom make Thanksgiving sides and then my daughter and I love to bring desserts. Fun dessert ideas are "our thing". These candy Pilgrim hats are perfect for our multi-generational Thanksgiving dinner.
Candy Pilgrim Hats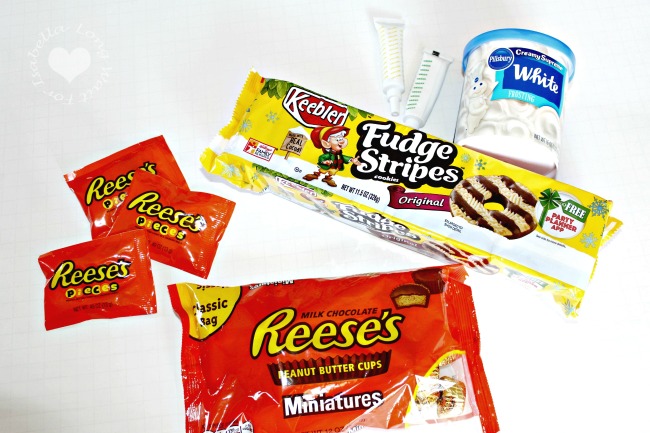 Ingredients:
Directions:
1. First you will want to mix your frosting with the food coloring. I put a little in a bowl and added food coloring to it and mix till it is the color you are wanting. I did yellow and a light orange for mine.
2. Put your frosting in a piping bag (I used a sandwich bag with the tip cut off).
3. Next lay your cookies face down on some wax paper. Then pipe out a circle around the center whole of the cookie.
4. Place the peanut butter cup on top of where you put the frosting. Then pipe around the peanut butter cup.
5. Next get a Reese's Pieces and place a little frosting on one side and stick it to the peanut butter cup.
Isn't this the easiest no-bake dessert idea? I simply love it. Plus, it's perfect for the kids to help with. And did I mention fun? It's no secret, if you've been a fan of my Facebook page, that I love Reese's PB cups. This simple Thanksgiving treat is the perfect treat for our family.
What are your Thanksgiving plans? What do you like to make for the Thanksgiving holiday?