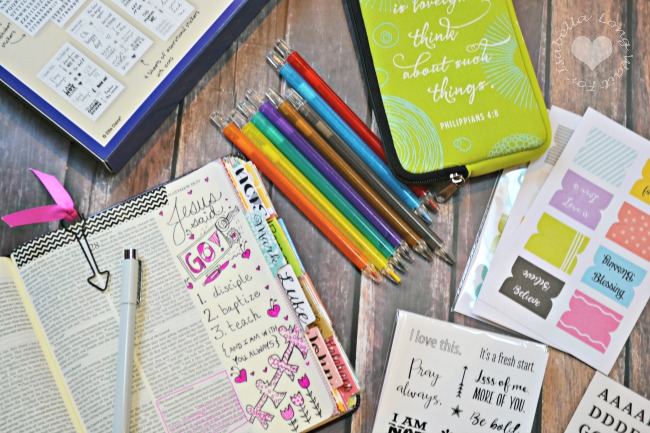 I've been a fan of Bible journaling for a little while now. I have a Journaling Bible (that I love) and Pinterest board full of ideas. I even belong to a Bible Journaling Facebook group. I just wish I had more time in my day to creatively journal in my Bible.
What is Bible Journaling?
Bible journaling is a way for a person to worship God through written words and artistic writing and drawing. There is no set way, or correct way for that matter, to journal through the Bible. You do not have to be an artist to do it either. This is is simply a creative outlet to study God's word and meditate upon scriptures.
Get Bible Journaling Ideas here.
About the Bible Journaling Kit
Create a work of art on the pages of your favorite Bible. Draw, color, or journal your thoughts, dreams, and prayers. Highlight your favorite verses or the encouragements that speak to your heart with pencils, stickers, and tabs.
Bible Journaling Kit includes:
4 sheets of word stickers
4 sheets of alphabet stickers
24 tab stickers
8 colored pencil twists
1 journaling pen
1 pouch with adjustable strap to fit Bibles of all sizes
1 ruled page protector mat with tracing lines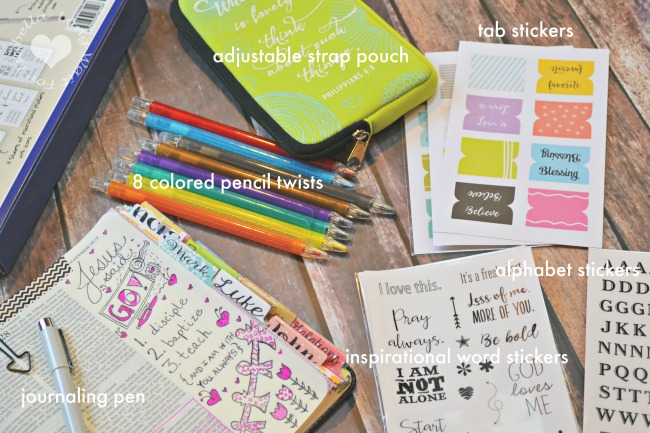 Connect with Worthy Publishing
Facebook | Twitter | Instagram
Disclosure: Many thanks to Propeller Consulting, LLC for this sponsored post.