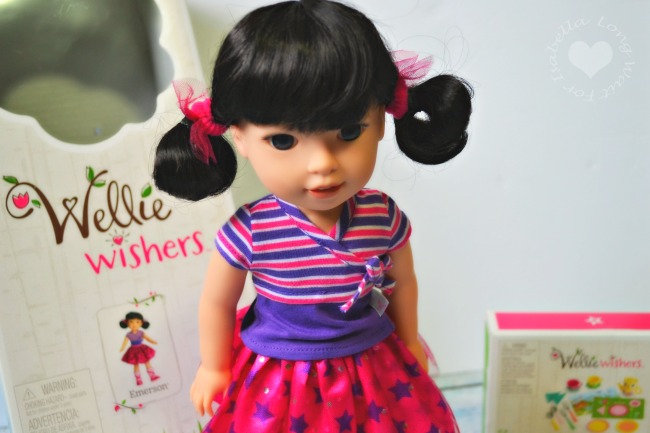 Isabella loves American Girl. She now two dolls – Melody and Kaya, and she adoringly looks at the American Girl magazine, wishing for more. A recent issue of the magazine featured the WellieWishers line of dolls. In fact, Amazon now has a WellieWishers animated show that my daughter loves. If you're a Prime Member you can stream season 1 for free!
These five cute dolls are 14.5 inches and just as cute as the larger 18 inch dolls. What Isabella doesn't know, is this holiday season, she is getting Emerson. She is going to be over-the-moon excited. In fact, Emerson made it into our Tween Holiday Gift Guide this year.
About Emerson WellieWishers Doll
Emerson loves the spotlight—and the spotlight loves her right back. She loves to make her friends smile with funny jokes, original dance routines, and show-stopping songs. This 14.5″ (36.8 cm) doll is sized just right for younger girls. She has dark-brown eyes and black hair in curly pigtails.
Emerson includes:
A striped dancer's top
A shimmery bright-pink tulle skirt printed with silvery dots and purple stars
Two bright-pink hair ties with tulle ribbons
Light-pink underwear
Pink wellie boots made to look like a ballerina's toe shoes
WellieWishers are the winner of the 2016 Oppenheim Toy Portfolio Gold Award! They are also named one of the Best Toys of 2016 by Parents Magazine!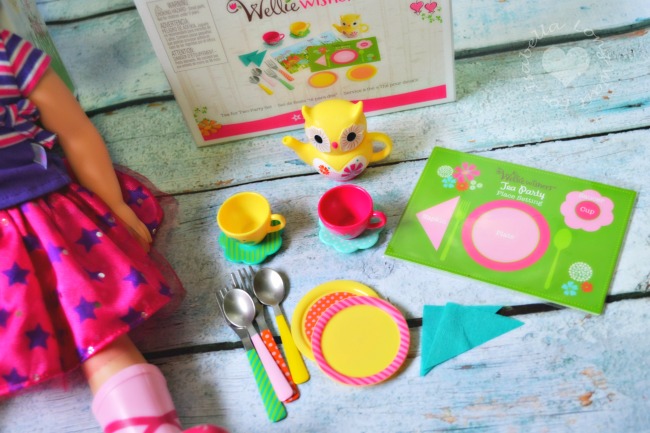 Tea for Two Party Set
In addition to the WellieWishers dolls you can also find play tents, clothing, books, and even play sets. In fact, Isabella is also going to get the Tea for Two Party Set with Emerson this holiday season. There are five other fun sets to choose from as well. This line is just so well-made and cute! Isabella is going to love it.
Tea for two? Don't mind if I do. The WellieWishers' tea set is made for make-believe. It includes an adorable yellow teapot in the shape of an owl, plus playfully mismatched place settings: two plates, two cups and saucers, two forks and spoons, two folded napkins, and two colorful placemats.
Connect with American Girl
Facebook | Twitter | Instagram | Pinterest | YouTube
Win an Emerson WellieWishers Doll
Disclosure: I was sent the above products for review. All opinions are mine alone.