Any fall travel plans? We are, of course, trying to find a last minute location for Thanksgiving. It's been a busy summer and fall so far, and we haven't planned well. But, we love going away for a multi-generational trip over Thanksgiving, so I'll keep you updated.
We're always looking for great travel games for the kids. We recently became familiar with a great company, SmartGames, and when I saw that they offered travel games, I knew I wanted to check them out.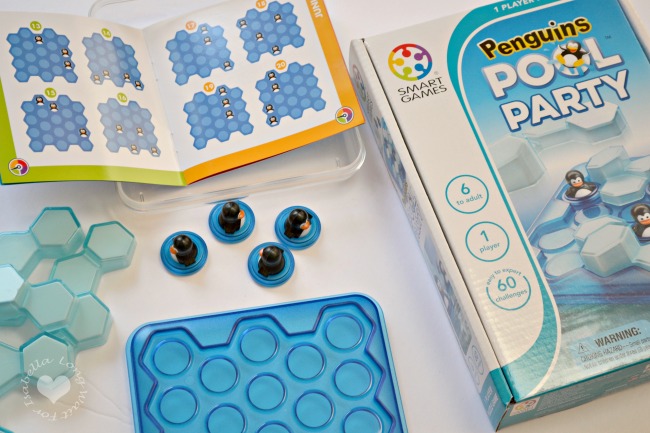 Fit the ice around the penguins!
Penguins Pool Party
The Smart Penguins challenge you in this exciting new 3D game…and now it's time for a swim! Discover Penguins Pool Party, featuring 60 challenges. To play just place the penguins in the water on the game board as shown in each challenge and then fit the ice blocks around them.
Contents:
Game board with lid to easily store everything
4 3D 'ice blocks' puzzle pieces
4 penguins
Booklet with 60 challenges and solutions
This game is for ages 6+, and honestly, even I had a hard time with this game. It's not easy to place these odd shaped ice blocks around the penguins. Thankfully there are a variety of challenges as well as solutions. It is sure to keep your child(ren) busy for a while!

Can you find all the right spots?
Parking Puzzler
Test your parking skills with the 60 challenges in Parking Puzzler! A unique deduction game, Parking Puzzler players must find the right spot for each car using the clues and directions provided in the challenges. No illegal parking is permitted! Cars parked in the driving lane or taking up two spots will not be issued a license to move to the next challenge!
Contents:
1 game board which can be used as storage case
7 colorful cars placed on 6 transparent puzzle pieces
1 booklet with 60 challenges and solutions
Parking Puzzler is for 7+ and it was my daughter's favorite travel game. She played it and loved it the day it arrived on our doorstep. I love that this game takes great logic, spatial insight, problem solving, concentration and planning. This is THE kind of game I like having on our travels. Her brain is engaged and it's fun!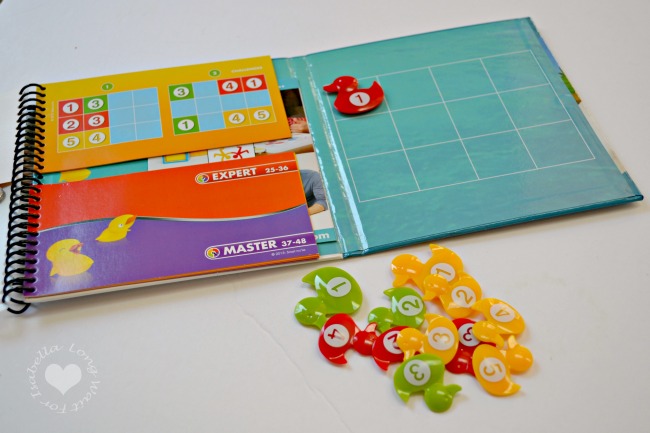 Get your duck's in a row!
Deducktion
All ducklings follow their mother! There are 3 duck families, each with a mother duck and a few ducklings. The yellow duck family has 5 members, the red 4 and the green 3. Can you use deduction skills to place the three duck families so that all ducklings follow their mothers? Follow the color-based and numerical clues to find the right spot for each duck! A magnetic travel game featuring 48 challenges, Deducktion is a perfect travel companion!
Contents:
Compact magnetic game board
12 magnetic ducks: 4 red, 3 green and 5 yellow
48 challenges and solutions
Deducktion is the most compact travel game. I love this one for that reason. I can easily grab and go and it can slide inside any purse or bag. For ages 6+, this game is magnetic, and addictingly fun. You must form a chain of each duck family and with 48 challenges, this game is sure to keep my Isabella busy on those long car rides and airplane trips.
About Smart Games
Have fun exercising your brain with SmartGames! Utilize skills ranging from spatial insight to pattern recognition, while improving your problem solving abilities and your memory.
Logic games that everyone can play, these awesome game can be played alone or with others. SmartGames has won over 70 awards worldwide! Each SmartGame is carefully designed and produced using quality materials that last. And with so many included challenges, each game can be replayed over and over again.
"Each SmartGame is carefully designed and produced using quality materials that last," explains their website SmartGamesUSA.com, "And with so many included challenges, each game can be replayed over and over again." So as kids grow, so do their toy's playing level.
You'll find larger sized original games, compact games, pocket games, and magnetic games at SmartGames. You are sure to find one (many) game that you'll love!
Connect with SmartGames
Facebook | Twitter | YouTube | Pinterest
Pin it for later: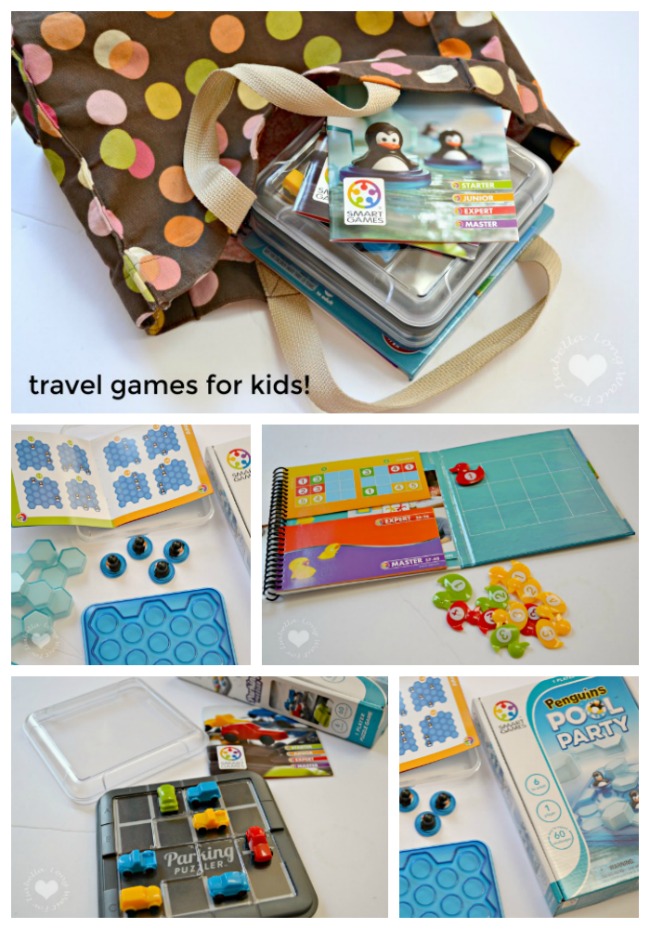 Disclosure: I was sent the above products for review. All opinions are mine alone.