This is a sponsored post with Adams Natural Peanut Butter. All opinions are mine alone.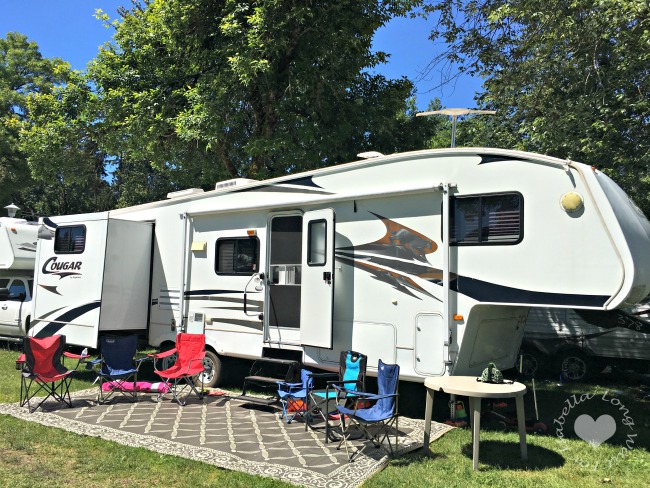 We camped in our 5th wheel travel trailer for 10 days this month here in Western Washington. We've known about this camping trip for almost a year and I'll be the first to admit that I wasn't prepared. I didn't make my  normal list of things to pack. And I ended up forgetting a lot of things — most importantly rain coats and rain boots. The clouds, thunder, lightening and rain was a HUGE surprise and we weren't prepared. Thankfully, we're camping in our 5th wheel not a tent.
Our family loves getting outside, especially during the summer months. Camping, biking, hiking, swimming, kayaking, and stand up paddle boarding are a few of our favorite things to do. There is so much beauty here in the great Pacific Northwest.
I did meal plan for our dinners. I brought food from home, shopped for the extra stuff, and kept breakfast and lunch simple: cereal and peanut butter and jam sandwiches respectively. So guess what happened? My kids made a lot of great friends. Those friends came over and visited and played very frequently. Which is nice — I mean I'll tell you the truth, I'd rather relax and visit with adults than entertain the kids. I like when friends come over. So I decided to show my appreciation to the Littles and feed them.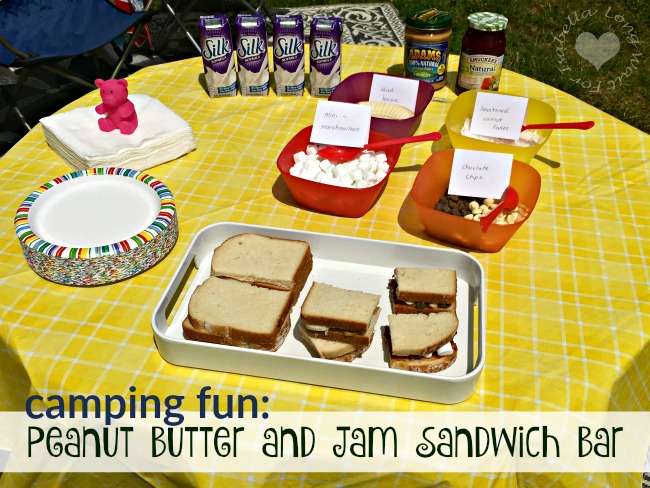 Enter my fabulous camping idea: the Peanut Butter and Jam Sandwich Bar.
I don't know if I made it up. Sometimes as a blogger, I refuse to Google my ideas – because truly there's nothing new under the sun.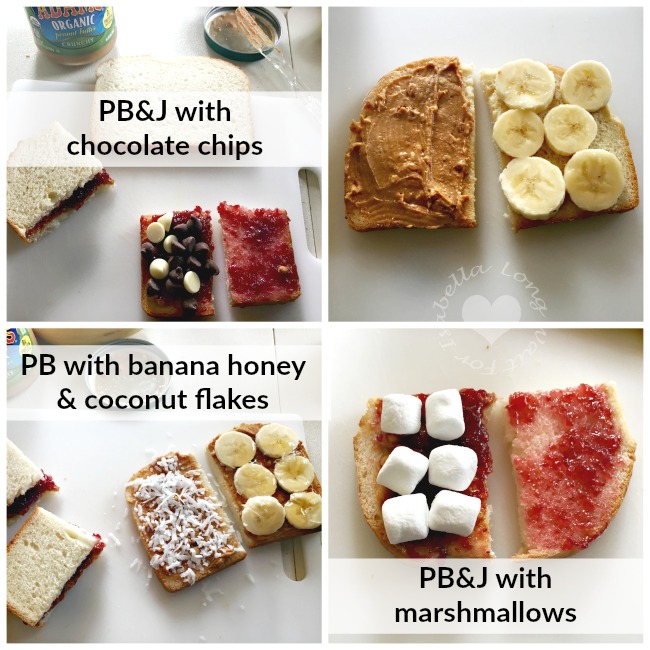 For the PB&J Sandwich Bar I needed:
Jam
Soft White Bread (cause we're camping and I need to spoil the kids sometimes)
Mini Marshmallows (when I was a kid adding these to my PB&J was my favorite sandwich)
Mini Chocolate Chips (white and milk chocolate of course)
Bananas
Honey
Sweetened Coconut Flakes
[Tweet "There is nothing peanut butter can't fix. #AdamsNatural"]
Do you think my impromptu sandwich bar was a hit?
Of course it was. For the kids who didn't like jam (strange, I know) they had plenty of options for other ingredients. Thankfully, no one had a peanut allergy.
What's a go-to camping food for your family?
About Adams Peanut Butter
Growing up in Washington state, my family has been fans of Adams Peanut Butter since I was a child. I can remember stirring the oil into the jar 25+ years ago. Now, I buy the organic version for my kids. Adams Peanut Butter is celebrating its 100 year anniversary this year! Embrace the Pacific Northwest spirit, get outside, and snap some photosGive them a shout out on social media and tag them at #AdamsNatural.
Connect with Adams Peanut Butter on Facebook.