Mobile technology is transforming the way companies in a range of sectors do business, including those in the healthcare industry. Apps like these are helping improve the performance of healthcare practitioners and producing a better patient experience.
Flu Near You: Real-Time Monitoring of Virus Spread
Image via iTunes
For years, the Centers for Disease Control and Prevention has published a weekly influenza update featuring statistics on U.S. residents with flu-like symptoms, the number of hospitalizations, and local deaths. However, this information is already two weeks old by the time it hits the web. Flu Near You is one clever app closing the information gap by providing real-time information on the flu. It relies on users monitoring and sharing information about flu outbreaks in their local area. This creates an up-to-date picture of the virus.
The app is a useful tool for encouraging people in at-risk areas to take precautions to prevent infection, including vaccinations and more regular hand washing. It could also help healthcare organizations predict when a flu crisis will occur, allowing them to roster more doctors and make more beds available.
The Flu Near You app is free for iOS and Android devices.
BlueStar Diabetes: Prescription App for Type 2 Diabetes Patients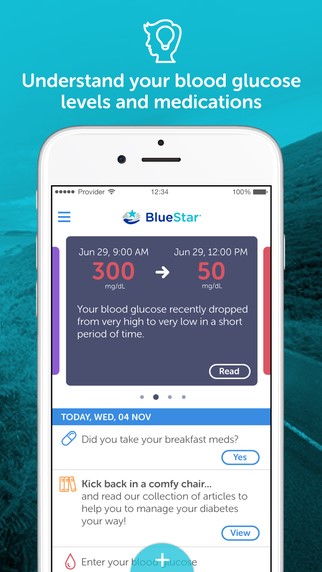 Image via iTunes
Nearly one in ten Americans has diabetes, and cases are on the rise, with 1.4 million diagnosed with the condition every year. Diabetes is the seventh leading cause of death in the country. Death typically occurs because a patient's condition has deteriorated significantly before medical treatment is sought.
BlueStar Diabetes, the world's first prescription-only app, seeks to lower the fatality rate by connecting type 2 diabetes patients with doctors remotely. These patients enter details like their glucose levels, diet, and physical activity into the app on their smartphone. Doctors can remotely review the data and offer their feedback on each patient's health. The app also prompts patients to test their blood sugar and offers tips for controlling it.
BlueStar Diabetes is available free for iOS and Android devices with a prescription.
SkinVision: Check Moles at Home
Image via iTunes
It's scary to note that one in five Americans will develop skin cancer in their lifetime. In fact, there are more new skin cancer cases every year than the combined incidence of breast, prostate, lung, and colon cancer. When melanoma is detected early, the survival rate is 98 percent. However, if treatment is delayed until the cancer spreads to the lymph nodes, the survival rate drops to 63 percent. When the cancer reaches more distant organs, only 17 percent of patients survive.
SkinVision is an innovative Australian app aimed at increasing early detection. Users simply snap images of any mole they're concerned about using the camera on their smartphone. The app analyzes the images and offers traffic light ratings and suggested courses of action. SkinVision also saves your images so you can monitor changes in your moles over time and share them with your doctor. The Apple iPhone 6s Plus in an excellent tool for this app because of its large high-definition display and iSight camera for detailed photos.
SkinVision's algorithm was scientifically tested at Germany's Ludwig-Maximilians-Universitat Clinic, one of the leading dermatology clinics in the world. With medical research behind it, it seeks to minimize patient anxiety and alert users to any potential skin problems. It also helps its users save money by ensuring they only book in-person dermatologist appointments for moles that appear to need further examination.
SkinVision is available as a free download on iOS and Android devices. After a one month trial, you'll need a subscription, starting at $7.99 per month, to use all its features.
Medscape: Comprehensive Medication Tool for Practitioners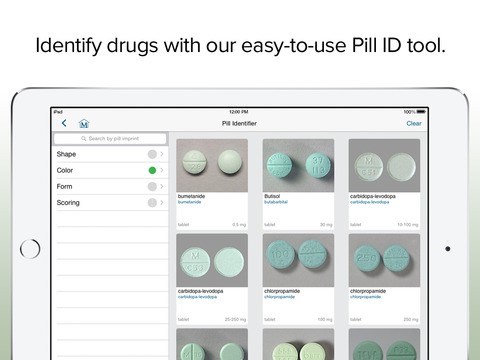 Image via iTunes
The Medscape app from WebMD puts volumes of textbooks into health practitioners' pockets. This comprehensive app provides up-to-date dosing data and possible adverse interactions for many prescription medications. It also offers treatment information for more than 4,000 diseases, and access to medical journals and other medical news.
Medscape helps healthcare practitioners decide on the optimum course of treatment quickly while they're at their patient's bedside, allowing them to work more efficiently while achieving the best outcomes for their patients. Medscape is known as the number one mobile platform for clinicians in the United States.
Medscape is free for iOS and Android devices.
Apps like these show the potential for mobile technology to improve accuracy, efficiency, and patient experience within the healthcare sector.