Tropical Granola
Prep Time: 10 Minutes
Cooke Time: 40 Minutes
Total: 50 Minutes
Yields approximately 4-6 servings
Ingredients
Preheat oven to 300.
Mix together the oats, almonds, banana chips and shredded coconut and set aside.
Whisk together orange juice and sugar until the sugar is dissolved. Once the sugar is dissolved pour orange juice mixture into dry ingredients and fold ingredients together until well incorporated. Do not over stir. Over stirring will cause the granola to break down and make it difficult to achieve the clusters that granola is known for.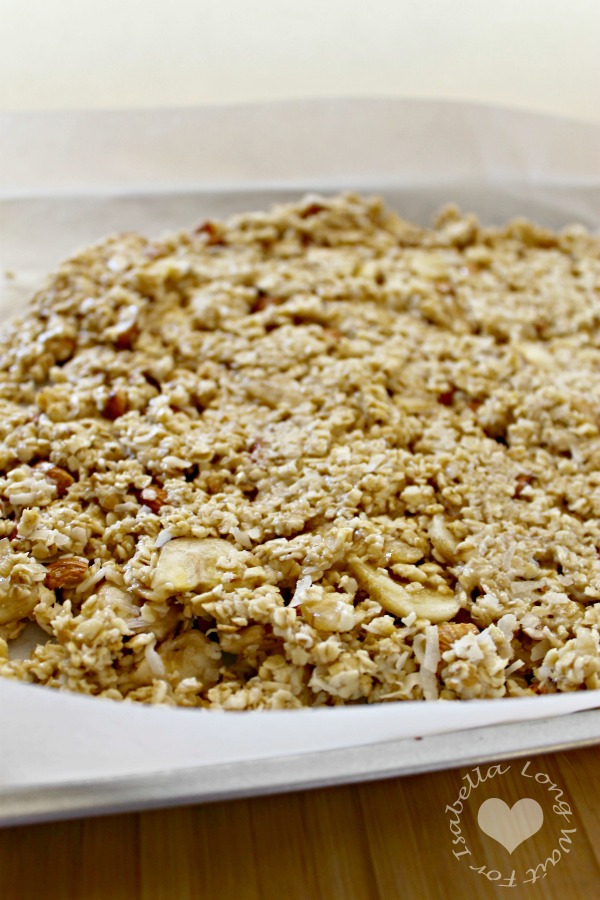 Spread wet granola mixture out onto a parchment lined baking sheet. Spread the mixture out in an even and thin layer to ensure even baking. Bake in preheated over for about 40 minutes, stirring every ten minutes. The granola will be a golden brown color and will cluster nicely together when fully baked. Before transferring the granola to an airtight container be sure to cool completely.
We love granola with milk, of course, but we also love to top our yogurt with granola too. A great granola can be pricey at the store, but with a little bit of time, you can make your own batch pretty easily!
What's your favorite way to eat granola?
Pin it for later: