A special thank you to Nicole Waggoner for this guest post.
It feels like an entire  lifetime ago that I relocated from Texas to Oklahoma, but I can still remember the overwhelming, terrifying feeling I got in that first year after the big change as I thought: "I may never have girlfriends again."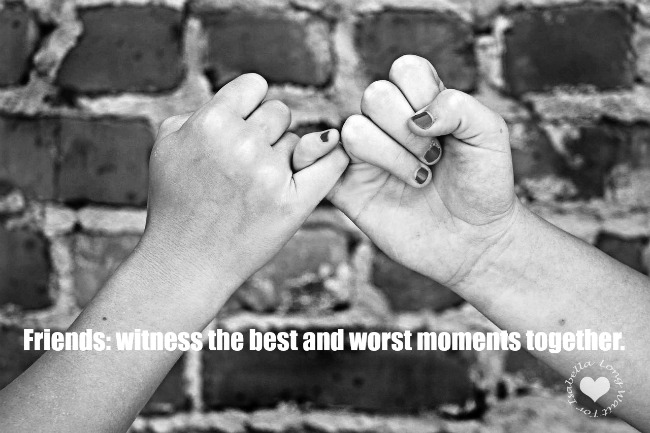 I came from a healthy and wide social net of female friends back in Texas. The lakefront community was close, and my female friends and I even closer. We were there for each other through thick and thin, and our relationships had really been put through the ringer: our relationships had seen the best and worst of marriage, divorces, babies, grief, and too many professional highs and lows to list.   We'd held each others' hands as we fell in love, out of love, had babies, lost babies, witnessed the horrors of cancer, buried parents, buried fiancés,
We had a history, and a ton of strength to draw on.
When it came time to relocate out of state for work, I weighed the pros and cons carefully.  Relocating would be best for my family in so many ways: it would bring us closer to grandparents and would give my husband an exciting new job with more flexibility and time with the family.  It would be more difficult for me personally, since I would have to leave a job and — hardest of all — would have to leave my sister-friend tribe behind.  A firm believer in doing what's best for the family as a whole, I forged ahead with the move.  Of course I was going to miss my friends, I thought, but how difficult could it be living with some distance between us?
The answer: DIFFICULT. Capital-letters-difficult.
As the days of separation and loneliness in my new Oklahoma home wore on, I got concerned about how I was going to build new female friendships that withstood the tests of actual life — it's ups and downs. With all this alone time, I started learning some truths about the importance of female friendships.
My revelation: every single woman needs at least one close and personal sister-friend to be her confidant, sounding board, cheerleader, and voice of reason, especially when times get tough.
[Tweet "Every woman needs at least one close and personal sister-friend."]
Because I didn't have anyone to tell about this new piece of self-discovered wisdom, I wrote it down — and the writing became infectious. Today, the running joke (among friends past and present) about my motivation to write my debut novel Center Ring is that the relocation to Oklahoma left me missing my girlfriends so much that I made up five imaginary friends and wrote a book.
Thus, the women of Center Ring (obstetrician Norah, photojournalist Camille, stay-at-home-mom Leila, publicist Ellison, and designer Kate) were born. I wanted to create a diverse tribe of women, each with her own strengths and weaknesses, who would honor all the best characteristics of strong female relationships. I wanted to reconnect with the feelings I had enjoyed over the years with my amazing friends.
Above all, I wanted the characters to be reflective of the real-world dynamics of female friendships, and I drew from the things I have been blessed to learn from other women walking my path. I wanted to keep from supporting fictions about women: especially avoiding unrealistic characters like the 'super-mom', who I think we all know is as fictional as June Cleaver vacuuming in pearls and Carol Brady with her effortlessly blended family. No one is really doing it all.
"Life is this crazy combination of love and risk and loss; then, just when you think you have it figured out, it throws you a curveball." – Center Ring, Nicole Waggoner
I wanted to be honest about women and show the learning, growth and myth-busting that our friendships can bring. I wanted to show what my female friendships have meant to me.
Over time, I became a part of my town in Oklahoma, and as relationships in my new normal bloomed, my belief was reinforced: strong female friendships are invaluable to the quality of our daily lives. Every woman needs someone who is working the same juggling act we are as wives, as professionals, as parents, who understands the difficulties and sometimes the improbabilities of keeping all of the 'balls in the air'.
Watching as the first novel in my Circus of Women Trilogy is being prepared for publication, I have to give some credit to those periods of loneliness that motivated the writing as I sought catharsis. But I have to give even greater credit to the women who helped me understand what real female friendship was — the messy, unpredictable, can't-talk-from-laughing-too-hard moments.
The dedication of Center Ring reads: To Sister-Friends Everywhere "No man can be happy without a friend, nor be sure of his friend until he is unhappy."–Thomas Fuller. At our best, we are a sisterhood of the tightrope who look at each other and say "I'm broken. You're broken. Let's lift each other and walk this path together."
Pin it for later:
About Nicole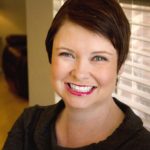 Nicole Waggoner, author of Center Ring (She Writes Press, 2016), is an award-winning teacher of upper-level English and Literary Criticism courses in Norman, Oklahoma.  She has received particular acclaim for her intensive study symposiums including Fitzgerald's World: A Labyrinth of Gilded Cages, Timed Writing Hacks for Anxious Test Takers, and Essential French for Travel.  Nicole lives with her biggest fans — her husband and two children — in Norman, Oklahoma, where she sits on the board of the Cleveland County YMCA and plays an active role with local initiatives supporting literacy, women's health and the working poor.