This is a sponsored post for SheSpeaks/Walmart.
Want to know about stockpiling? It's pretty simple. What household items does your family use most each month? Pay attention to that. When you see something go on sale and if you can find an additional coupon – stock up. Building up a stockpile of household items can really save you money in the long run. When we needed diapers, if I saw a great deal, I stocked up. Now, I like to stock up on:
paper towels
toilet paper
shampoo and conditioner
razors
laundry detergent
dish soap
toothpaste
Honestly, things we daily use are items I like to stock up on. What do you like to stock up on? Have  you built a stockpile yet? I don't coupon like I used to back in 2008, but I do like to use my phone to save even more. Have you tried the Ibotta app? You can stock up at Walmart and save even more when you use the Ibotta app. Check it out!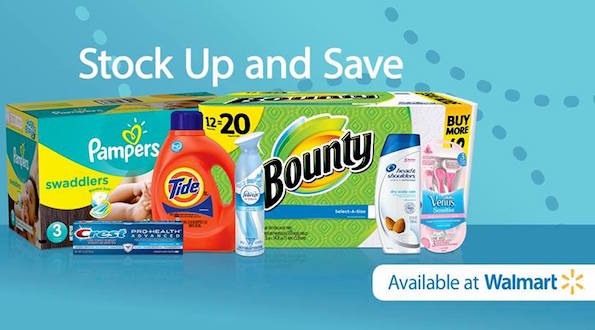 Walmart has a great even happening right now: Stock Up and Save Event.
Participating Products In The April Stock Up And Save Event:
Bounty Select-A-Size 12-Pack Mega Roll
Tide 100 oz. Original HE Liquid Laundry Detergent
Pampers Swaddlers Huge Box
Head & Shoulders Dry Scalp Shampoo, 23.7 oz.
Head & Shoulders Dry Scalp Conditioner, 23.7 oz.
Febreze Air Effects Linen & Sky
Dawn Original 75 oz.
Gillette MACH3 Sensitive Disposable 3-Pack
Venus Sensitive Disposable 3-Pack
Gain 100 oz. Original Liquid Laundry Detergent
Charmin Ultra Strong 36 Double-Roll Pack
Crest Pro-Health Advanced Toothpaste
The April Stock Up & Save Event is full of the top brands. When you stock up to get everyday essentials for less, you won't run out when you need something most. Don't miss out — join the April Stock Up and Save Facebook event today to get all the great details on deals!
Do you like to stockpile?