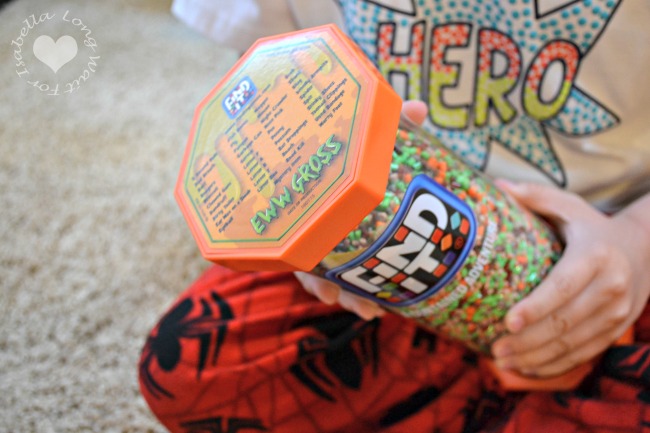 Each week, I bring a large bag to church. I call it my kids' busy bag. I have one bin in the house full of things that they can bring to church and I rotate things in the bag so they have different things each week. It's common to find toy cars, simple puzzles, activity books, and crafts. I found a new treasure hunt game to add to our busy bag last week and the kids love it: Find It Eww Gross!
About Eww Gross!
Part game, part activity, this "contained adventure" is a portable treasure hunt.  This newest version will get a reaction as soon as the 40+ word list is read. Expect to hear "eww" and "gross" when reading the words "scab" or "smelly armpits." Again, don't tell the kids, but playing this game will encourage focus and concentration, key traits for a healthy future.
Both my kids have fought over this silly yet fun game — they love finding new gross things. I have to time them now, so they can each have the same amount of time looking for gross things. In fact, my son is constantly looking for what he thinks is the "booger" in this game. That green thing he is pointing at is not a booger but he loves finding it!
Not only can they find the items that are listed on the top lid, but there are also cards to make the game even more fun and interactive. Find It has a winner with Eww Gross — they must know my kids too, because my kids both love gross things.
[Tweet "A gross portable treasure hunt? Your kids will love it!"]
I am now going to have to buy more versions of this game. In fact, Find It Made in Washington and Find It Kids are both now on my wish list.
Do your kids love hunting for treasure? This game will provide hours of fun as they shake and twist their Find It to look for items.
Connect with Find It
Facebook | Twitter | Instagram
Disclosure: This is a sponsored review. But our love of Find It games is all our own!