I love bringing desserts to family dinners and church potluck. I am also the queen of semi-homemade. Using a box mix is just a little bit easier. That's why I love this recipe, it's super easy and very delicious. It's a big win. Plus, it has apples and here in Washington we LOVE apples.
Easy Apple Cinnamon Upside Down Cake Recipe
Ingredients:
White cake mix with pudding in mix
1 granny smith apple peeled
3 eggs
½ vegetable oil
1 cup water
½ cup sour cream
1 tsp nutmeg
1 tsp cinnamon
1 tsp sugar
powdered sugar
1 tsp lemon juice
You will need a large muffin pan. I like to use the simple, inexpensive Wilton non-stick muffin pan. You can buy a muffin pan here on Amazon for less than $10!
Directions:
Preheat oven at 350 degrees. In a mixing bowl, mix cake mix, 3 eggs, ½ oil, 1 cup of water and sour cream. Mix with an electric mixer. Prepare your muffin pans by coating with shortening and lightly coat with flour. Dice up peeled apple into petite size cubes. In a bowl mix apples with lemon juice and stir. Add nutmeg, cinnamon and sugar and mix. Place apple cubes in bottom of muffin pan. Pour batter into pans and bake for 17-19 minutes until toothpick comes out clean. Sprinkle with cinnamon and sugar and powdered sugar.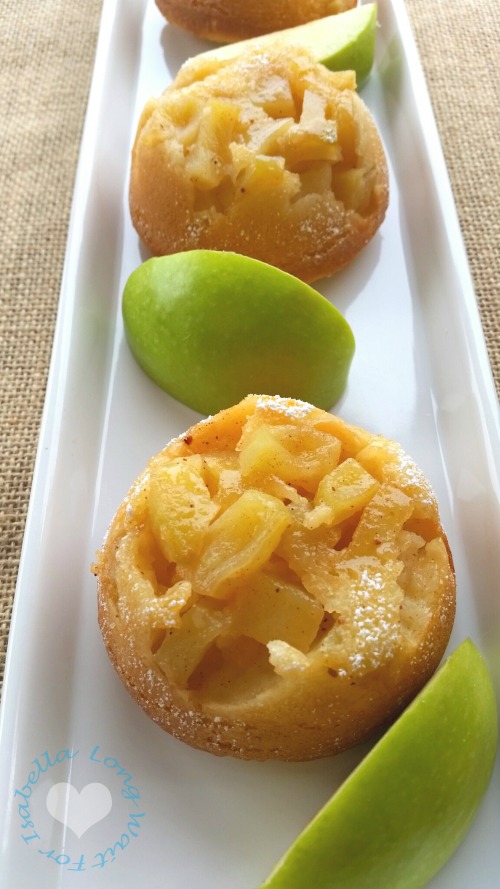 Enjoy!
*Recipe makes 6 servings*
Pin it for later: