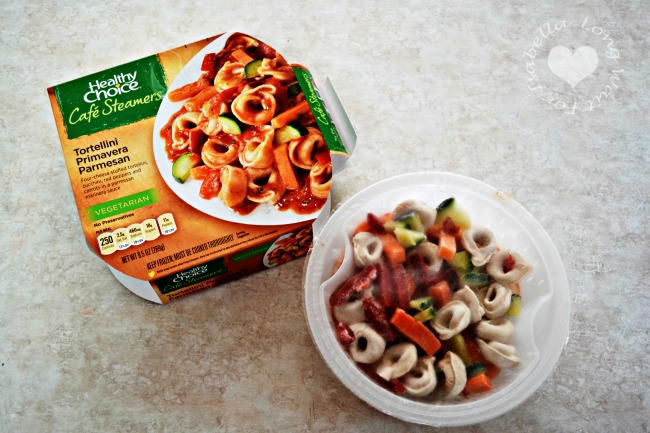 Am I the only one who often cooks two dinners at night? I can't be. Usually, at night, I want to grab something light, healthy, and lower calorie. My go-to often is a smoothie and popcorn, cereal, or a great frozen meal. Last week, I found some great new vegetarian frozen meals from Healthy Choice. In fact, their Cafe Steamers line has five (5) vegetarian frozen meal options!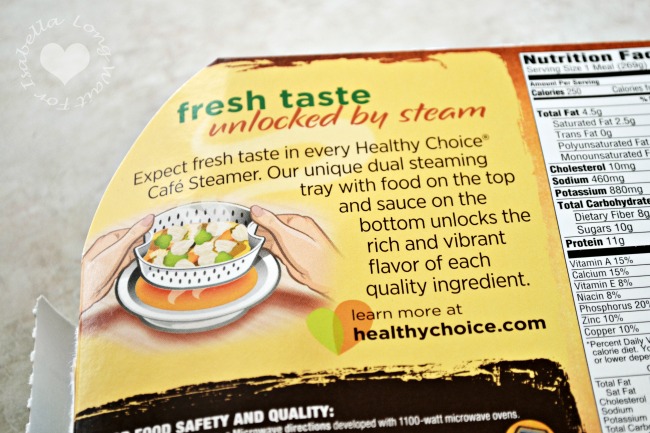 I love that the ingredients are steamed in a dual steaming tray. Usually freezer meals can get mushy and the ingredients become indistinguishable. But not Cafe Steamers from Healthy Choice. All Healthy Choice meals are made with real ingredients and no preservatives so you don't have to worry about sacrificing taste or freshness. Since the ingredients aren't frozen in the sauce they have a fresh, more vibrant taste.
[Tweet "Real ingredients, no preservatives, these vegetarian freezer meals are PERFECT!"]
Then, after cooking, you mix the quality ingredients into the tasty sauce. Can you see those vegetables? They are cooked perfectly, still firm and not mushy.
This is a great dinner option for me when I don't feel like eating the same large dinner as the rest of the family. Convenient, healthy, vegetarian, and of course delicious! The best part? I have five other vegetarian options to choose from!
Asian Potstickers
Portabella Marsala Pasta
Portabella Spinach Parmesan
Pumpkin Squash Ravioli
Tortellini Primavera Parmasan
That makes dinner menu planning very easy for me. And if you know me, you know I love easy and healthy. It's my kitchen motto.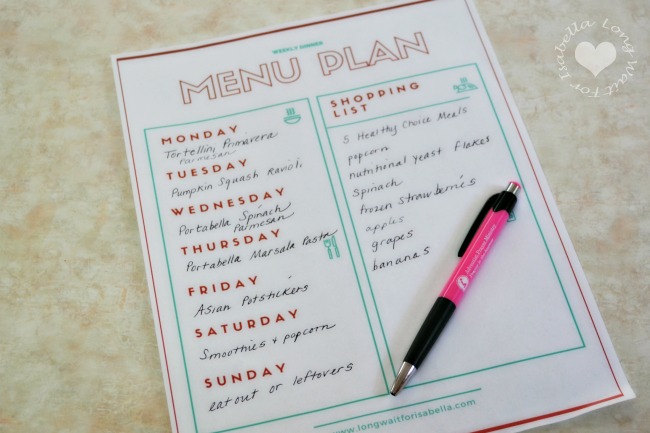 Do you like planning a meal?
You can print out my dinner meal plan printable if you like. Here is the jpg image – I made it 8.5 x 11 for easy printing. Simply right click, open in a new window, and print to paper size.
Or if you'd prefer you can print directly from this PDF: Weekly Dinner Menu Plan.
Healthy Choice is the only major brand in the frozen meals section that can call 100% of its products "healthy" as approved by the FDA.  You can find Healthy Choice Café Steamers in the freezer aisle at grocery stores nationwide for the manufacturer's suggested retail price of $3.29.
I was selected for this opportunity as a member of Clever Girls and the content and opinions expressed here are all my own.