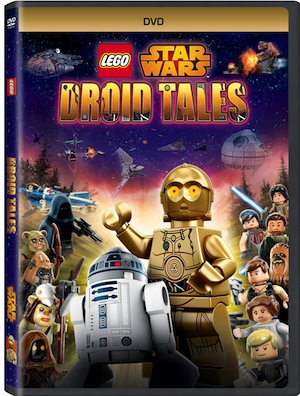 Since my husband and I are Star Wars fans, we actually like watching LEGO Star Wars with our kids. The episodes are pretty funny and quite entertaining. This new DVD, Droid Tales, is going in the Easter basket this year. So, thought we haven't watch it yet, it is hiding until the end of the month. We are excited to watch it together.
Any Star Wars or LEGO fans in your house?
Synopsis
The fun begins following the victory celebration in the Ewok village on Endor, at the end of Star Wars: Return of the Jedi. R2-D2 and C-3PO have gathered to regale Luke, Leia, Han, Chewbacca and the other Rebels with the tales of their adventures that led to the events of Star Wars: The Phantom Menace. An accidental kidnapping occurs while the droids are reminiscing, and suddenly you're taken on a new journey that leads to the retelling of the entire Star Wars saga, as told by R2-D2 and C-3PO! It's hilarious and playful, packed with all your favorite interlocking characters. Lego Star Wars: Droid Tales
is intergalactic thrills for the whole family!
[Tweet "Retelling of the entire Star Wars saga, as told by R2-D2 and C-3PO!"]
Episodes:
Exit from Endor
Crisis on Coruscant
Mission to Mos Eisley
Flight of the Falcon
Gambit on Geonosis
Rating: Y7
Run Time: Approximately 110 minutes – Five 22-minute episodes
Buy LEGO Star Wars Droid Tales
This 5 episode DVD disc is now available to own. You can find it affordably priced at Amazon.com.
This is a sponsored post. All opinions are mine alone.