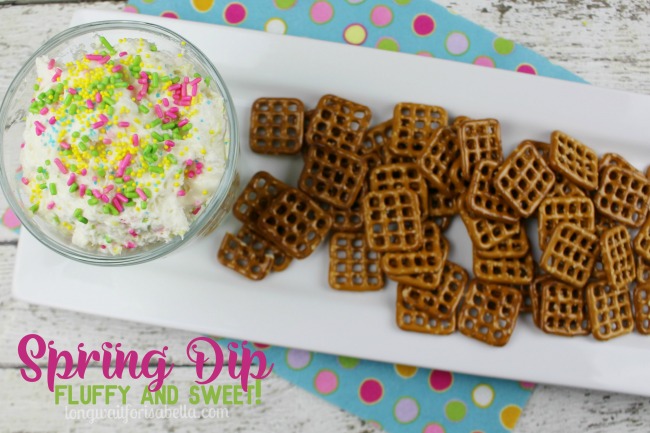 A sweet fluffy dessert dip is the perfect Easter recipe and even a great Spring-time recipe. Before you eat your Easter meal and family are over you can easily serve this light and tasty dessert dip.
Fluffy Spring Dip
Ingredients:
1 (8 oz) brick cream cheese – room temperature
1 (8oz) container Cool Whip, thawed
1/4 cup sour cream
1 teaspoon vanilla extract
3/4 cup powdered sugar
1/2 cup vanilla cake mix
Garnish – pink, green and yellow sprinkles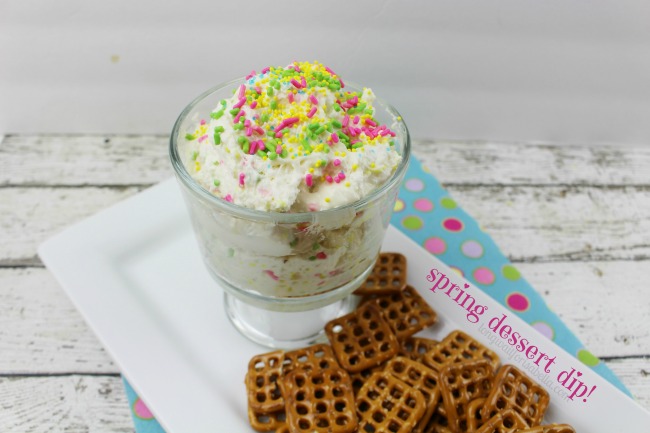 Directions:
1. Add the cream cheese to a medium mixing bowl.
2. With an electric mixer
on medium speed, mix the cream cheese until light and fluffy-about 3 minutes.
3. Add the sour cream and vanilla. Mix for an additional minute on low speed.
4. Add the Cool Whip and mix on medium speed for one minute.
5. Slowly add the powdered sugar while the mixer is on medium low speed and mix until well incorporated.
6. Add the cake mix and mix on medium speed until light and fluffy- about 1-2 minutes.
7. Cover and refrigerate until ready to serve up to 24 hours.
8. Transfer to serving bowl and garnish with pink, yellow and green sprinkles. Serve with waffle pretzels, graham crackers or Nilla Wafers
.
ENJOY!
Pin it for later: