This last month my Princess and I made cookies together. She specifically asked for peanut butter cookies and since we had all the ingredients, I just couldn't say no. I mean, honestly, who can say no to peanut butter cookies?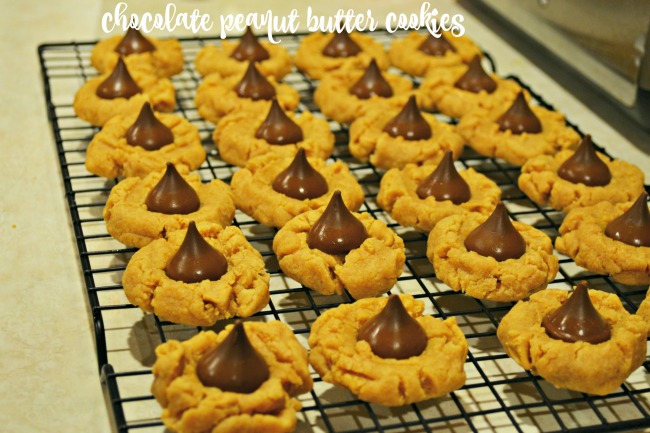 She loved them so much she asked me to make them for her class, for her birthday. She does not like cupcakes, and she wnated to bring something to her class on her birthday, so we made another batch of peanut butter cookies with chocolate candies – thumbprint cookies, blossoms – whatever you want to call them they were a big hit.
This Peanut Butter Cookie Recipe was the best I've found. My mom has one that I've used before, but honestly, this recipe from Food.com is amazing. But, wouldn't you know  –  I was missing a couple ingredients. So I improvised:
1 c creamy peanut butter
2 cups white sugar
1 cup butter, softened
2 eggs
2 t baking powder
1 t vanilla extract
2 1/2 all purpose flour
Cream butter, peanut butter and sugar together. Add eggs and beat well. Ad baking powder, vanilla and flower and mix well. Roll into 1 1/2 inch balls, roll into sugar, flatten cookies with fork and make a criss-cross pattern. Bake 350 degrees for 7 minutes. Push chocolates into top at the end and let them cool.
We even let the Little Man roll the cookie dough into sugar, so these cookies were extra sweet. He has a great time with that job.
[amazon_link asins='B00B34DPU4,B000G0KJG4,B00WUDQ61W,B01MT7Y8YZ,B00PJCYOWE' template='ProductCarousel' store='wpplugin01-20′ marketplace='US' link_id='e27d2157-d3b2-11e7-ac1c-0b6a768cac40′]
This was the batch without chocolate – my Princess prefers her cookies with peanut butter chips and no chocolate. I like them both ways.