Teaching your kids how to help out around the home is a great way to promote a positive work ethic. If you start early enough, your child may even enjoy helping out because they get a strong sense of contributing to the household. However, it can sometimes be difficult figuring out which tasks are age-appropriate. You want it to be something that they can easily handle that also won't require you to micromanage or clean up after them.
[Tweet "Preschool chores: promote a positive work ethic!"]
Here is a list of 10 kids chores that you can teach your child to do. Be sure to give your kids plenty of praise when they learn how to do these chores.
1. Make Their Own Bed
This might seem obvious, but you'd be surprised at how many kids never learn how (or see the need to) fix their bed. Starting out you might have to help them, especially if their beds have a lot of sheets and covers. However, eventually, they should be able to do it on their own.
2. Pick Up Their Toys
Another bedroom chore that your kids can handle is picking up and putting away their toys. This can be a nightly activity.
3. Wipe Countertops
Give your child a few cleaning wipes and teach them how to clean the countertops in the bathroom. This can be a daily/nightly habit after they brush their teeth.
4. Clear the Dining Room Table
After meals, your child can help to clear dishes from the table and carry them to the sink. You can even teach them to scrape leftover food into the trash can before placing the dishes and utensils in the sink.
5. Clean the Table
Preschoolers are also able to use a wet dishcloth to wash the dining room table after meals.
6. Feed Fido
If you have pets, your preschooler should learn how to feed it. Show them where you keep the food and how much they should pour into the feeding dish. You can also teach them how to use a step stool to get water for your pet.
7. Sweep and Mop the Floor
If you have a hand broom and a Swiffer, they are both great tools to teach your child about cleaning the floor. You can start them small by asking them to sweep or mop a small section of the floor while you do the rest.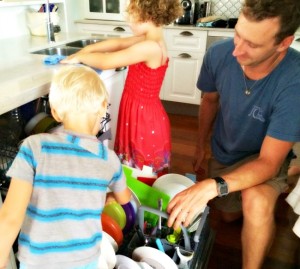 8. Helping with the Dishes
Let your child help you with the dishes. If you hand-wash dishes, you can pass them over to your child to dry. They can even help to put up the utensils and pots/pans. Just be sure not to give them anything that is too heavy or too sharp. The same applies if you use a dishwasher.
9. Helping with the Laundry
Your child can help out in the laundry room by sorting clothes to be washed and then carrying the clean clothes back to their rooms, where they can put them in their dresser.
10. Dusting Furniture
Another simple task that your preschooler can handle is dusting and polishing furniture, baseboard, and tables with a soft cloth.
What do you think? Which chores can preschoolers do?
You might also like: