We've made it through the first semester of Preschool with flying colors! It started out difficult – my Little Man had a hard time going for 3.5 hours per day by himself. After two weeks, he wasn't crying anymore. That's a good thing. He still tells me he's scared when I drop him off, but he runs into class and doesn't say goodbye anymore. I feel a bit sad about my boy getting so big – but that three and half hours per day really helps as a work-at-home blogger!
We had a parent teacher conference recently and I was very happy to hear the great reports from his teacher. His evaluation was quite extensive. One thing that surprised his teachers was how many numbers (between 1-10) that he recognized. The teacher told me she could tell we work with him at home. I need to show how what he likes to do: Teach My Preschooler learning kit.
Teach My Learning Kit
Teach My Preschooler is the multi award-winning all-in-one learning kit for preschoolers age 3 years+. Screen-free, the kit has everything for encouraging reading for kids and teaching preschoolers the basics. Teach My Preschooler is divided into four sections: Reading, Printing, Numbers to 100, Adding and Subtracting. Developed with education consultant, Judith Rowlands, M Ed., Teach My Preschooler is designed to give preschoolers an early head start, develop fine motor skills, encourage parent-child interaction and increase school readiness skills.
The Deluxe Kit Contains:
Teach My Preschooler Reading Learning Set
Teach My Preschooler Printing Learning Set
Teach My Preschooler Numbers to 100 Learning Set
Teach My Preschooler Math Learning Set
Features:
10 Readers
60 Flashcards
1 Flashcard Reward Tin
1 Flashcard Holder
1 Magic Drawing Board
78 Print Transparencies & Printing Guide
101 Train Flashcards
3 Posters
2 Flip-Books
Foam Numbers, Counters and Equation Signs
Teaching Guide
Storage case
His favorite part of the kit are the numbers, more specifically the number train. He LOVES putting 1-10 in order and then matching the foam numbers on top. I actually  need to incorporate 11-20 because he quickly and easily recognizes and arranges 1-10 in order now.
Thank you Teach My! You've made learning fun!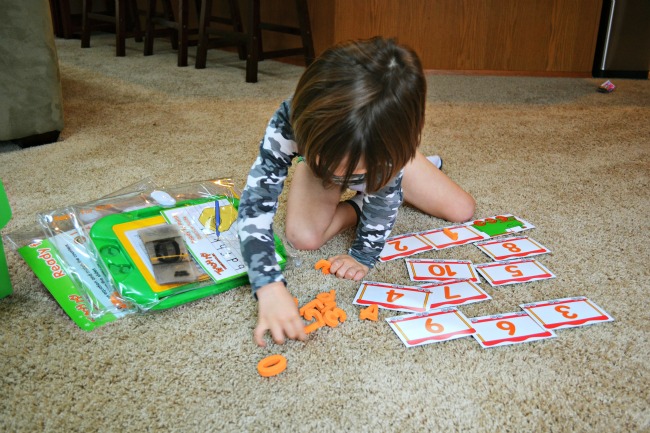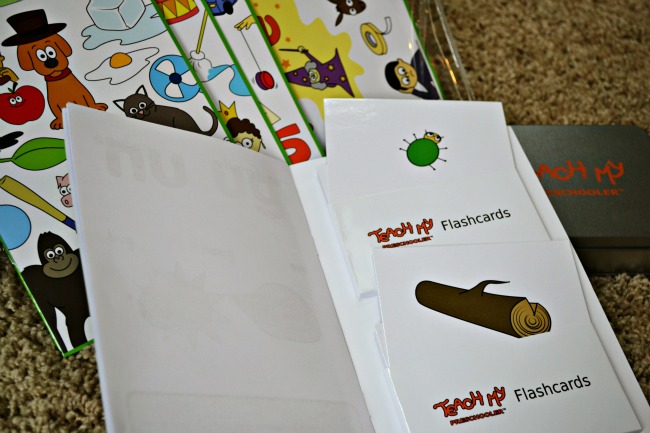 I actually love the Reading Learning Set included in this Preschool kit. It has 10 age appropriate readers and 60 flash cards. My son already has a love for books. He pretends to read them all the time. This part of the kit opens the doors to reading for him in a fun educational way.
This learning kit is well organized. It really has everything you need to Reading, Printing, Numbers and Math to your preschooler. The paper isn't flimsy, the foam numbers, and large posters are all helpful. I appreciate the thorough instructions included for parents as well. If you'd like to prepare your preschool for school; if you'd like to do some homeschool with your child, then this really is the most affordable learning kit and well worth the money.
Buy Teach My Learning Kit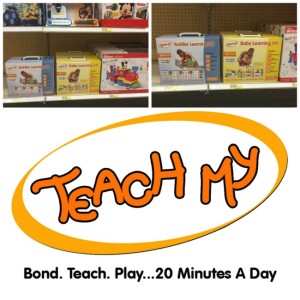 Teach My is now available at a Target near you! As if you need another reason to go to Target! (I am a HUGE Target fan…) Check the store locator to see if your Target carries it. If you don't have a Target near you selling Teach My then you'll also find it at Walmart, Toys R Us, and Amazon.com. You can find a Teach My Baby and Teach My Toddler learning kit as well other products.
Connect With Teach My
Facebook | Twitter | Google+ | YouTube | Instagram | Pinterest
Win Teach My
One lucky Long Wait for Isabella reader will win their own Teach My Learning Kit (of choice). Visit Teach My and let me know which product you'd love if you won. Enter the Rafflecopter form below for your chance to win. Open to US residents 18+.
Disclosure: This is a sponsored post. All opinions are mine.