Yes, as you already know, my family are big fans of the YumEarth brand of candy for the holidays. Well, truthfully, we love them year round, but we try to limit sweets as much as possible with our two kids. My kids and I love sweets though. The hubby isn't too interested in candy. I'll admit to hiding the best candy and sneaking one or two in the evening after the kids are in bed. Yes, I have quite the sweet tooth.
Did you know that YumEarth offers specially marked bags of candy for Easter? If you are looking for a candy to give your kids, one made with natural and organic ingredients, then you MUST check out YumEarth.
[Tweet "Looking for a natural and delicious candy for the kids? Check out YumEarth!"]
This last week, I created a fun printable for the YumEarth Sour Beans
. Have you heard of Easter Bunny Poop yet? I have seen printables for this a few times and I wanted to create my own. I like my printables to have a white background, use as little ink as possible, easily cut out and staple to the product. There are cute Easter treat printables online but I usually like making my own.
Cute and simple, that's my DIY motto!
right click to open and print on a full size piece of cardstock
If you'd prefer you can also download from this PDF: Easter Bunny Poop Printable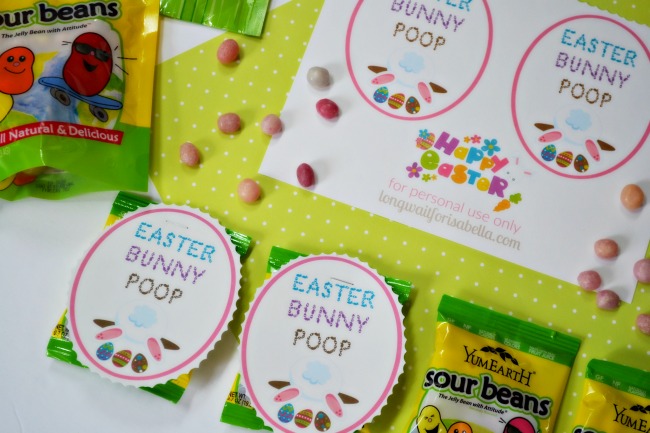 How would you like to win $20 of YumEarth Honestly Crafted candy? Head over to the Long Wait For Isabella Facebook page for your chance to win! Open to US and CAN residents 18+.