This shop has been compensated by Collective Bias, Inc. and its advertiser. All opinions are mine alone. #StartWithJifPowder #CollectiveBias,
As I reflect back on my food choices in 2015, I realize I didn't do too bad. I am not going to beat myself up – I lost weight, I gained it back, I lost it again. I am starting 2016 feeling positive about my health and making great food choices. I don't weight more in 2016 than I did in 2015 – which might be a first in a long time. I am proud of that. I am happy with me. My husband is happy with me. My kids are happy with me. It feels pretty good!
Making good food choices, for me, includes eating real foods, and correct portions. When I stick with that and add exercise, I am doing great. It's that simple. You have no idea how happy I am to find Jif Peanut Powder in 2016. I am a HUGE peanut butter fan – but I am not a fan of the calorie content. The solution to my PB problem? Yep, you guessed it: Jif Peanut Powder. With only one ingredient – peanuts – Jif Peanut Powder is a pantry must in 2016.
I am excited to make recipes, including smoothies with this new product. First on my list of recipes to make with peanut powder was my mom's Vegan Peanut Butter Balls: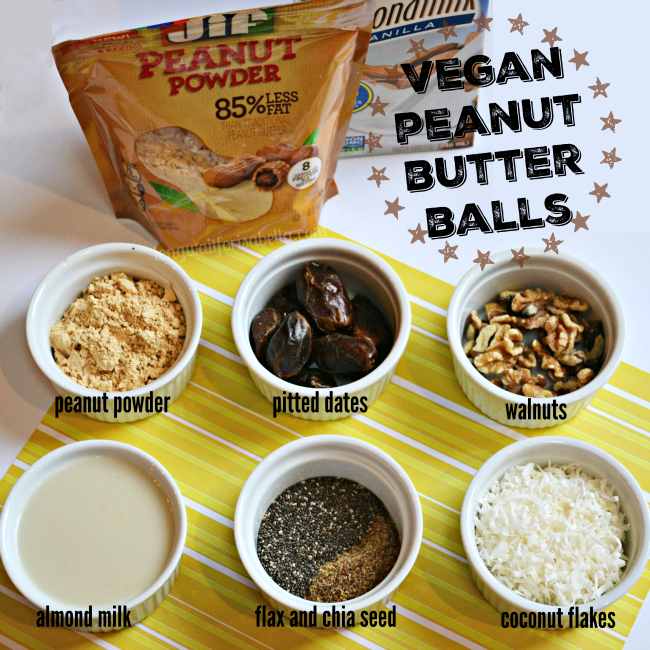 About 15 years ago, I was vegan. I found great recipes, loved finding new ways to prepare foods, and stuck with it for about six years – until I had my first child. When I was pregnant I fell off the vegan band wagon. You want to know what did it? Peanut Butter Cups candy! I told you I was a big peanut butter fan. These nutritious real food snacks are so simple to make. They easily fulfill my PB passion.
Vegan Peanut Butter Balls ingredients
1 C pitted dates
1/2 C walnuts
1/4 C almond milk
1 T flaxseed meal
1 T chia seeds
unsweetened coconut flakes
Directions
Mix walnuts and dates in a food processor.
Add remaining ingredients.
Chill in fridge.
Roll into two-bite balls.
Roll through unsweetened coconut flakes.
Jif Peanut Powder contains all the great protein of traditional peanut butter, but without all the fat – 85% less fat, in fact!
Besides making Peanut Butter Balls, I'd also like to try making:
For more great recipes, visit peanutpowder.net.
Pin it for later: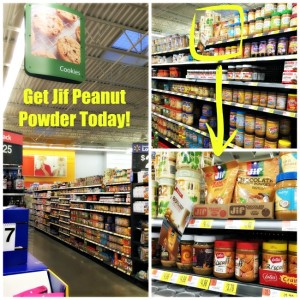 You'll find the affordable, one ingredient, and oh so tasty, Jif Peanut Powder at you local Walmart. I found it on the Cookie aisle near the other peanut butter products. My store even had a sign by it on the shelf, sticking out, so you can easily find it.
Honestly, mixing this product with water and putting it on toast in the morning? It's heaven. Truly.
Try Jif Peanut Powder today!