This last week my Princess and I have been decorating for Valentine's Day — at least our mantle. I ordered a couple new plaques from Family Christian, we did some water color painting, and cut out some paper hearts. We've actually had a great time, bonding together, over Valentines Day Decor.
For God so loved the world that he gave his one and only Son, that whoever believes in him shall not perish but have eternal life. John 3: 16
My eight year old made this. We were thinking of doing a paper chain heart garland, because it's cute and easy to do. But then we found some drift wood – living here in the Puget Sound, Washington, we have a great time collecting things at our local beach – and decided to hang hearts on the mantle.
After two rows of hearts she got tired, so I finished the other rows. Next time, I'll have her use Elmer's glue – she only had glitter glue for this project. But it worked. That is the nice thing about crafting with kids – we use what works and there is no mistakes.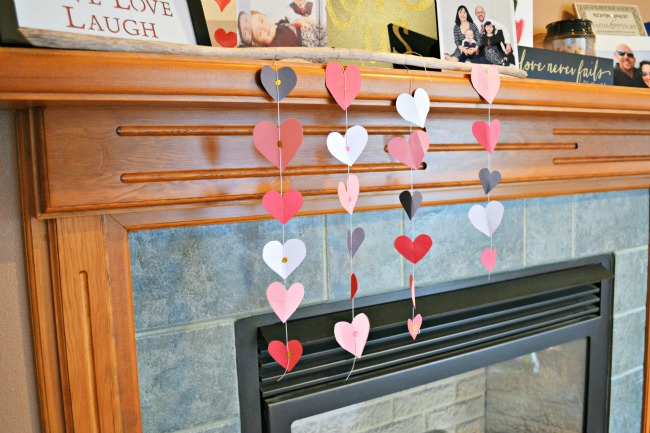 The two of us had a great time watercolor painting, it might be our favorite crafting thing to do together. We did some simple hearts — quick and easy and they look great.
Here are two more very simple Valentines Day decor ideas you and the kids can make at home:
20 Valentines Day Decor Ideas
This is how we know what love is: Jesus Christ laid down his life for us. And we ought to lay down our lives for our brothers and sisters. 1 John 3: 16
Don't you love that "I Love Us" and "Love Never Fails" plaque? I got those both at Family Christian. I am loving the plaques and pillows – all the home decor really – that I am seeing at my local store! Check it out online or in-store this week!
Connect with Family Christian
Facebook // Twitter // Google+ // YouTube
Pin it for later:
But God demonstrates his own love for us in this: While we were still sinners, Christ died for us. Romans 5: 8
Disclosure: This is a sponsored post. All opinions are mine alone.