Are you looking for the perfect gift for the mom in your life? Would you like it to be affordable, practical, and much loved? Then look no further. Nature's Bounty now has essential oils and a diffuser available at Walmart for a very affordable price. And the mom in your life will definitely thank you. Just this week, three moms, share their love for essential oils with me. Since I tried them a couple months ago, I am hooked now too.
Do you know a mom who'd love to have her spirits raised? I know there are many days I could use this. We give and nurture our families and it's nice to get that back. This really is a perfect gift for mom. Chamomile Essential Oil is great for uplifting spirits and inducing a sort of happy or charged feeling. Even smelling these oils can help a lot and bringing about a good mood.
calming. nurturing. soothing.
About Chamomile Essential Oil
Nature's Bounty Earthly Elements chamomile essential oil is popular for tranquility, chamomile has a sweet, apple-like aroma that is replenishing and soothing. This serene oil is steam distilled from the chamomile flower to awaken its sensual natural perfumes. Originating in England, this oil with a mellow floral fragrance has soothing properties that are perfect for creating a peaceful environment.
Calm, nurture, soothe
Traditional Usage: serenity, tranquility, rejuvenation
Ingredients: Prunus amygdalus dulcis (sweet almond) oil, Anthemis nobilis (chamomile) flower oil, tocopheryl acetate (vitamin E)
Nature's Bounty Earthly Elements offers an array of essential oils. The essential oils can be diffused, inhaled, or applied topically, when combined with a carrier oil. Owing to their sense-invoking nature, these oils are perfect for adding to your bubble bath or massage or as key ingredients for beauty treatments. Create your own bath oil, fragrant lotion, or even a cleaner to polish your counter tops. To use in the most traditional way, drop into a diffuser and inhale the aromatic qualities.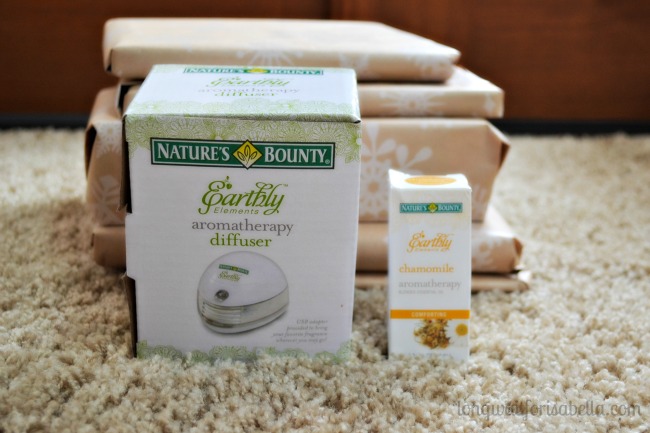 Do you like using essential oils? Earthly Elements offers many great essential oils. Which essential oil would you like to try out?
This post has been sponsored by Nature's Bounty®. Products were provided to me free of charge for this review. All opinions are my own.