Holiday shopping season is in full swing. I know that parents want to uncover the "it" gift for their favorite boy and girl. This year, consider a "wow" gift from Magicforest's vast European collection of art-infused (music, theatre, cinema) toys for tots as young as two. Each toy recommended hails from beloved European craftsmen engaged at Vilac, Moulin Roty and Sevi.
Magicforest's Holiday 2015 Best Bet Lists for Under $40, Under $30 and Stocking Stuffers under $25 are all linked below and contain dozens of new for 2015 items that will give you great ideas for the kids on your list from baby to school age.
Toys can be purchased instantly online from Bonjour Petit, www.BonjourPetit.com, where gift-wrapping and free shipping over $75 are available. Launched in January 2015, Bonjour Petit is an online retailer whose French​/​American team is dedicated to bringing the finest toys from Europe to the United States via importer Magicforest. Or ponder over Magicforest's vast website, www.magicforest.com, and find a neighborhood toy store by clicking on their "brick and mortar" button under "stores."
Here are the three outstanding collections: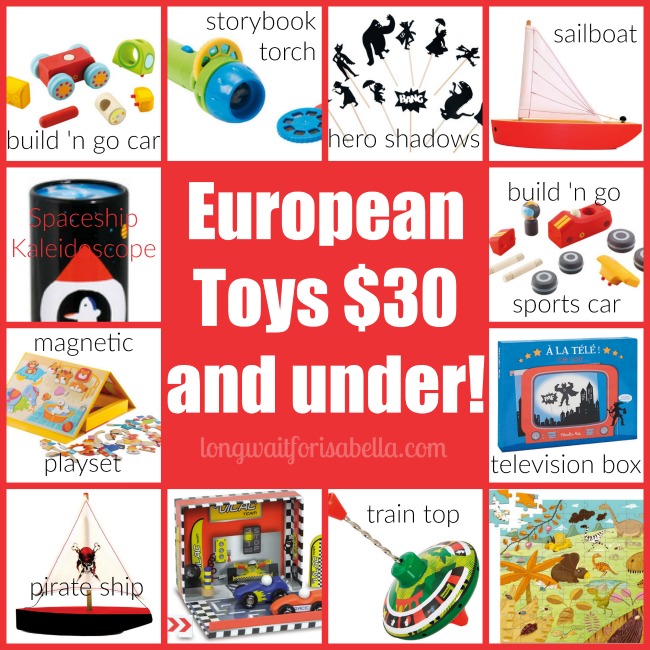 Stocking Stuffers $25 and under
Shop at www.bonjourpetit.com this holiday season for unique and wonderful gifts at a value for all the kids on your list
About Magic Forest
Celebrating its 11th year in business, Magicforest is an American toy importer and proud to be the exclusive distributor of eight European brands including Moulin Roty — its flagship brand — currently sold in 700 specialty toy and gift shops. The company has a simple operating principle: provide the very best in children's toys and games. They like to think of the Magicforest as a friendly place where kids learn, play and grow. Plus parents are confident that their products meet the highest standards of safety and quality. Find their wholesale site online at www.magicforest.com.
Pin it for later:
Disclosure: This is a sponsored post. All opinions are mine alone.