We played and learned as part of a sponsored post for Socialstars and Playskool.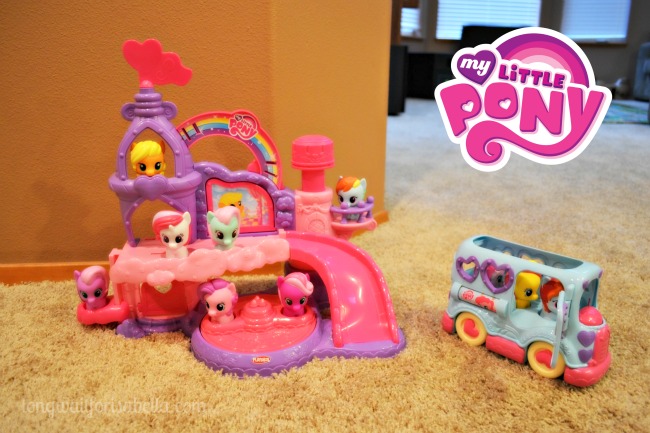 Need a last minute gift idea that is perfect for the little girls in your life? Look no further: Playskool is now offering My Little Pony toys for toddler girls that they will absolutely love. Perfect for age 18 months – 4 years, these new and fun toys will really be a hit this year.
Let their very first My Little Pony playsest be this castle. It is so cute! This Celebration castle has a slide and elevator and features sounds and lights. You also get an adorable chunky (perfect for their little hands) Pinkie Pie and Star Song.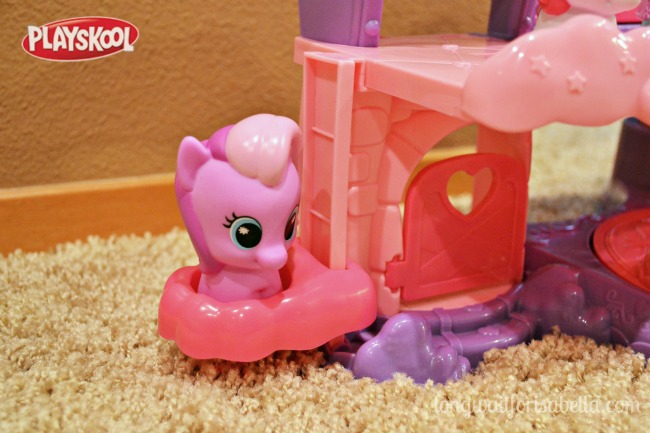 I used to wonder what friendship could be, until you shared its magic with me! – My Little Pony!
Let the adventures roll with this Rainbow Dash Frienship Bus! Honestly, my three year old son loved this toy. He has a big sister who LOVES My Little Pony, so he's familiar with these characters. He loves putting three chunky My Little Pony figures inside for a fun ride.  Do you have a little on in your life who'd love to play with this? Your little one will enjoy the fun activities including opening and closing the sign, spinning the roller, and pushing the button that makes the door swing open.
[Tweet "Even my son loves this Friendship Bus! #PlayskoolCrew"]
Sharing kindness, it's an easy feat… and magic makes it all complete! – My Little Pony
One or two My Little Pony figures is just not enough. Thankfully, Playskool offers extra My Little Pony figures with this collector pack. This full collection features 7 adorably chunky pony figures including Rainbow Dash, Rarity, Applejack, plus an exclusive Cheerilee.
[Tweet "Seven chunky MLP figures your kids will LOVE! #PlayskoolCrew"]
Are you ready for the holidays this year? Is there someone on your list that would love a new playset, bus or chunky figures? Affordable, fun, and popular – My Little Pony from Playskool is the way to go!