My daughter has the same teacher this year at her Christian private school that she had last year. And my daughter really loves her teacher. We are thankful that we have great teachers in the lives of our children. My friend and I are teaching a club on Tuesday night for Pre-K through 4th grade. My friend is the leader of the club and truthfully, I don't know where I'd be without her. She does an amazing job. All the teachers deserve something special this holiday season and throughout the year as well. 
Are you still looking for great gifts for teacher?
The student is not above the teacher, but everyone who is fully trained will be like their teacher. Luke 6: 40
Ten Best Gifts for Teacher
Book
Pen
Plaque
Scarf
Shirt
Calendar
Kitchen Utensils
Apple Gift
Key Chain
Ornament
Let us not grow weary or become discouraged in doing good, for at the proper time we will reap, if we do not give in. Galatians 6: 9
Wouldn't you love to honor and thank the teachers in your life? In case you are looking for some great quotes to add to the card, here are 10 great one-line teacher quotes just for you.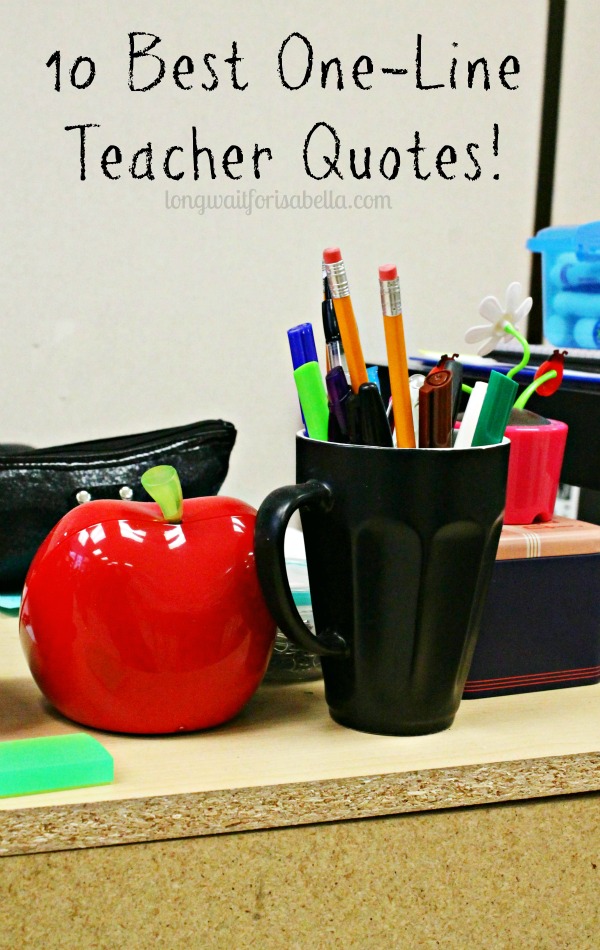 Ten Best Teacher Quotes
Teaching creates all other professions. ~ Author Unknown
A teacher is one who makes himself progressively unnecessary. ~ Thomas Carruthers
If you have knowledge, let others light their candles at it. ~ Margaret Fuller
What the teacher is, is more important than what he teaches. ~ Karl Menninger
Teaching should be full of ideas instead of stuffed with facts. ~ Author Unknown
What a teacher writes on the blackboard of life can never be erased. ~ Author Unknown
The best teachers teach from the heart, not from the book. ~ Author Unknown
Teachers touch the future. ~ Author Unknown
What sculpture is to a block of marble, education is to a human soul. ~ Joseph Addison
The art of teaching is the art of assisting discovery. ~ Mark Van Doren
Don't forget to thank your teacher this holiday season!
Teaching them to observe everything that I have commanded you; and lo, I am with you always, even to the end of the age. Matthew 28: 20