With the New Year fast approaching, I'd love to encourage you to share the importance of daily devotions with your children. Spending quality time with God each day is not just good for you, as parents, but it is also an important habit for the kids to start as well. My daughter is turning 8 this week and she loves reading her Bible. I was excited to see a new Bible available for Tween girls: Faithgirlz Bible. I am putting this one away for my daughter for when she gets just a bit older. This is why I've compiled 31 Bible verses for Tweens.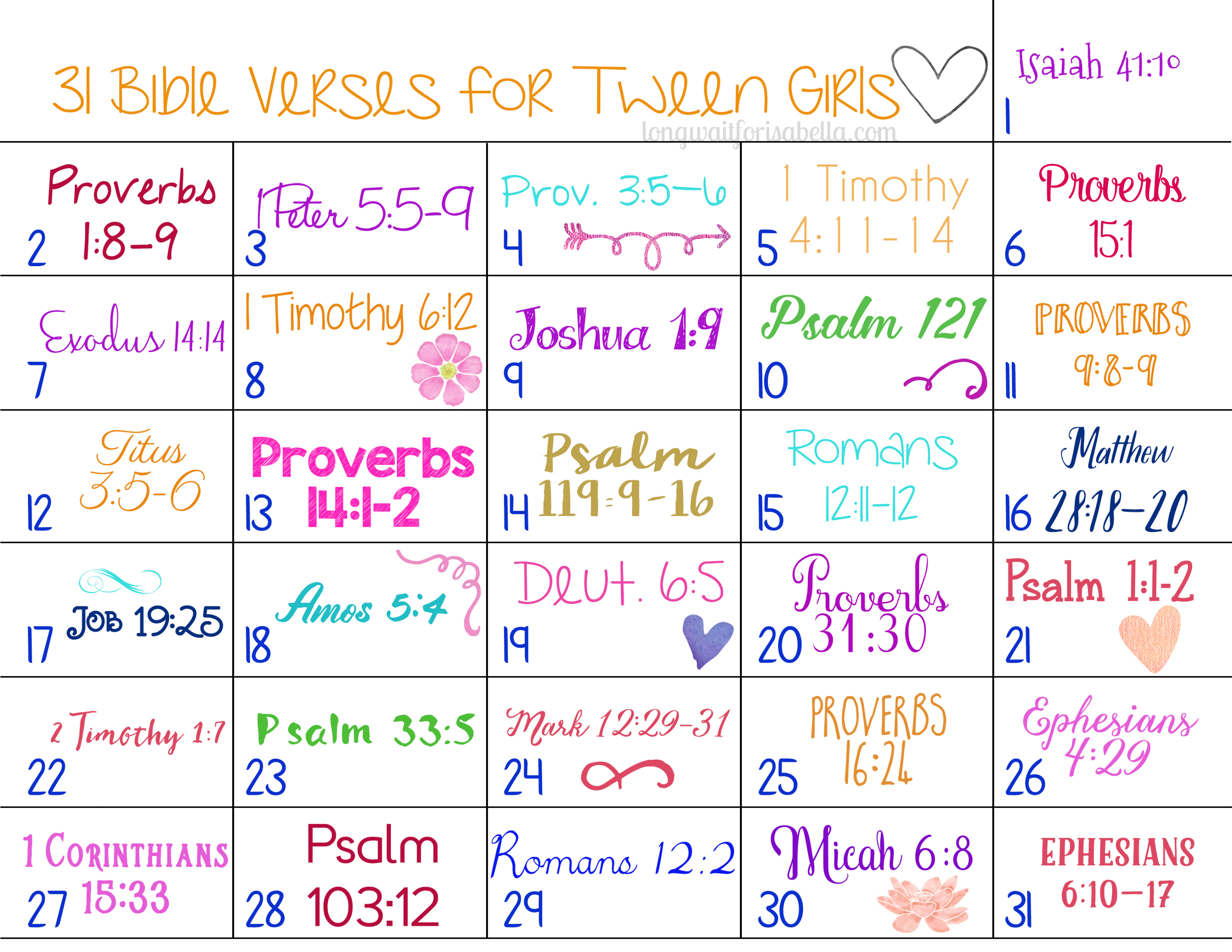 For a printable PDF version, click here: 31 Bible Verses for Tweens
About Faithgirlz Bible
Every girl wants to know she's totally unique and special – and this Bible celebrates that with faithGirlz!™ sparkle. Through the many in-text features written by best selling author Nancy Rue and found only in the faithGirlz! Bible, girls will grow closer to God as they discover the journey of a lifetime.
Features:
Book introductions – Read about the who, when, where and what of each book.
Dream Girl – Use your imagination to put yourself in the story.
Bring It On! – Take quizzes to really get to know yourself.
Is There a Little (Eve, Ruth, Isaiah) in You? – See for yourself what you have in common.
Words to Live By – Check out these Bible verses that are great for memorizing.
What Happens Next? – Create a list of events to tell a Bible story in your own words.
Oh, I Get It! – Find answers to Bible questions you've wondered about.
Pin it for later: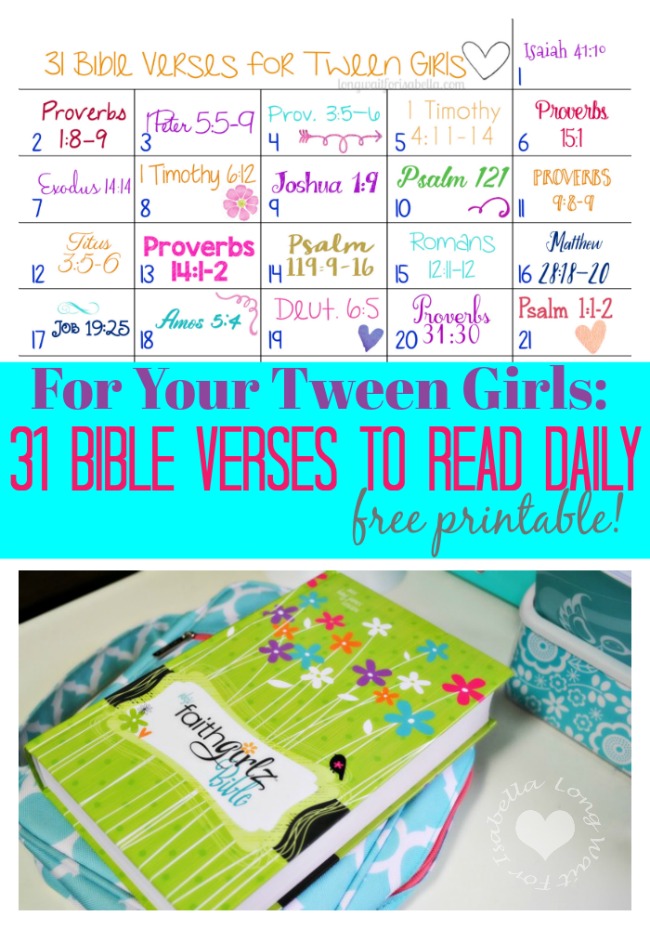 31 Bible Verses for Tweens
If you'd like to read each of the verses first, here are 31 Bible verses for Tweens.
Isaiah 41:10 So do not fear, for I am with you; do not be dismayed, for I am your God. I will strengthen you and help you; I will uphold you with my righteous right hand.
Proverbs 1:8-9 Listen, my son, to your father's instruction and do not forsake your mother's teaching. They will be a garland to grace your head and a chain to adorn your neck.
1 Peter 5:5-9 Young men, in the same way be submissive to those who are older. All of you, clothe yourselves with humility toward one another, because, God opposes the proud but gives grace to the humble. Humble yourselves, therefore, under God's mighty hand, that he may lift you up in due time. Cast all your anxiety on him because he cares for you.Be self-controlled and alert. Your enemy the devil prowls around like a roaring lion looking for someone to devour. Resist him, standing firm in the faith, because you know that your brothers throughout the world are undergoing the same kind of sufferings.
Proverbs 3:5-6 Trust in the LORD with all your heart, and lean not on your own understanding; In all your ways acknowledge him, and he will make your paths straight."
1 Timothy 4:11-14  Command and teach these things. Don't let anyone look down on you because you are young, but set an example for the believers in speech, in conduct, in love, in faith and in purity. Until I come, devote yourself to the public reading of Scripture, to preaching and to teaching. Do not neglect your gift, which was given you through prophecy when the body of elders laid their hands on you.
Proverbs 15:1 A gentle answer turns away wrath, but a harsh word stirs up anger.
Exodus 14:14 The Lord will fight for you; you need only to be still.
1 Timothy 6:12 Fight the good fight of the faith. Take hold of the eternal life to which you were called when you made your good confession in the presence of many witnesses.
Joshua 1:9 Have I not commanded you? Be strong and courageous. Do not be afraid; do not be discouraged, for the LORD your God will be with you wherever you go.
Psalm 121 I lift my eyes until the hills, where do I find help? My help comes from the Lord, the maker of heaven and earth…
Proverbs 9:8-9 Do not rebuke mockers or they will hate you; rebuke the wise and they will love you. Instruct the wise and they will be wiser still; teach the righteous and they will add to their learning.
Titus 3:5-6 He saved us, not because of righteous things we had done, but because of his mercy. He saved us through the washing of rebirth and renewal by the Holy Spirit, whom he poured out on us generously through Jesus Christ our Savior.
Proverbs 14:1-2 The wise woman builds her house, but with her own hands the foolish one tears hers down. Whoever fears the Lord walks uprightly, but those who despise him are devious in their ways.
Psalm 119:9-16 How can a young person stay on the path of purity? By living according to your word. I seek you with all my heart; do not let me stray from your commands. I have hidden your word in my heart that I might not sin against you.Praise be to you, Lord; teach me your decrees. With my lips I recount all the laws that come from your mouth. I rejoice in following your statutes as one rejoices in great riches. I meditate on your precepts and consider your ways. I delight in your decrees; I will not neglect your word.
Romans 12:11-12 Never be lacking in zeal, but keep your spiritual fervor, serving the Lord. Be joyful in hope, patient in affliction, faithful in prayer.
Matthew 28:18-20 Then Jesus came to them and said, "All authority in heaven and on earth has been given to me. Therefore go and make disciples of all nations, baptizing them in the name of the Father and of the Son and of the Holy Spirit, and teaching them to obey everything I have commanded you. And surely I am with you always, to the very end of the age."
Job 19:25 I know that my redeemer lives, and that in the end he will stand on the earth.
Amos 5:4 This is what the LORD says to Israel: "Seek me and live;
Deuteronomy 6:5 Love the LORD your God with all your heart and with all your soul and with all your strength.
Proverbs 31:30 Charm is deceptive, and beauty is fleeting; but a woman who fears the Lord is to be praised.
Psalm 1:1-2 Blessed is the one who does not walk in step with the wicked or stand in the way that sinners take or sit in the company of mockers, but whose delight is in the law of the LORD, and who meditates on his law day and night.
2 Timothy 1:7 For the Spirit God gave us does not make us timid, but gives us power, love and self-discipline.
Psalm 33:5 The LORD loves righteousness and justice; the earth is full of his unfailing love.
Mark 12:29-31 "The most important one," answered Jesus, "is this: 'Hear, O Israel, the Lord our God, the Lord is one. Love the Lord your God with all your heart and with all your soul and with all your mind and with all your strength.'The second is this: 'Love your neighbor as yourself.'There is no commandment greater than these."
Proverbs 16:24 Gracious words are a honeycomb, sweet to the soul and healing to the bones.
Ephesians 4:29 Do not let any unwholesome talk come out of your mouths, but only what is helpful for building others up according to their needs, that it may benefit those who listen.
1 Corinthians 15:33 Do not be misled: "Bad company corrupts good character.
Psalm 103:12 As far as the east is from the west, our sins are removed from God's memory.
Romans 12:2 Do not conform to the pattern of this world, but be transformed by the renewing of your mind. Then you will be able to test and approve what God's will is–his good, pleasing and perfect will.
Micah 6:8 He has showed you, O man, what is good. And what does the LORD require of you? To act justly and to love mercy and to walk humbly with your God.
Ephesians 6:10-17 Finally, be strong in the Lord and in his mighty power.Put on the full armor of God, so that you can take your stand against the devil's schemes. For our struggle is not against flesh and blood, but against the rulers, against the authorities, against the powers of this dark world and against the spiritual forces of evil in the heavenly realms. Therefore put on the full armor of God, so that when the day of evil comes, you may be able to stand your ground, and after you have done everything, to stand. Stand firm then, with the belt of truth buckled around your waist, with the breastplate of righteousness in place, and with your feet fitted with the readiness that comes from the gospel of peace. In addition to all this, take up the shield of faith, with which you can extinguish all the flaming arrows of the evil one. Take the helmet of salvation and the sword of the Spirit, which is the word of God.
You might also like:
Disclosure: This is a sponsored post. All opinions are mine alone.