When I was a child, I had my favorite toys. These were the toys my friends came over to play with. These were the toys that my friends brought over as well. We collected them.  We had special cases for them. We loved making up games with them. I have great memories of childhood play. Do you know that my favorite toys weren't dolls, but figurine animals? They were a few popular at the time and I had accessories and vehicles for them as well.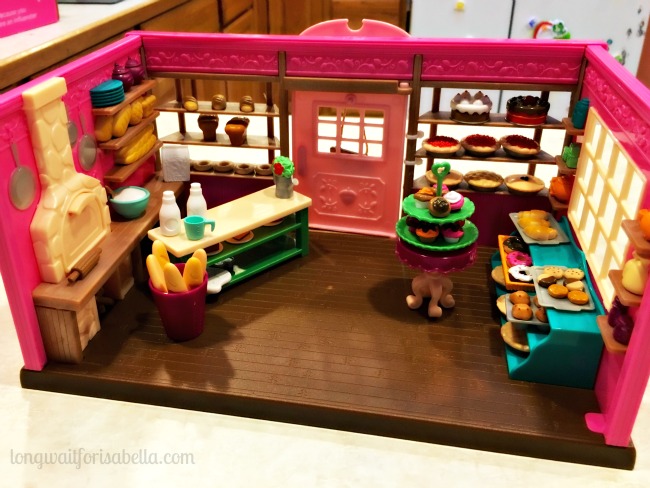 Fast forward 30 years later and now my daughter has new toys this Fall that I might love almost as much she does. Li'l Woodzeez
are the cutest toys! It takes everything in me to not head to Target and buy them all up. They are just that cute and fun.
We have the Tickle-Your-Taste-Buds™ Bakery and The Bushytail™ Squirrel Family here at the Long house. Trust me, they are a BIG hit. Keeping my three year old son away from them is the hard part. He wants to play right along with his big sister. He just doesn't stack and keep all the bakery items quite as nice as she does.
Li'l Woodzeez Tickle-Your-Taste-Buds™ Bakery
The Tickle-Your-Taste-Buds Bakery makes the most scrumptious pies in town. Maggie and Oliver, along with their kids, Henry and Honeybun, pick and peel apples while Grandma Agnes gets the pie crusts ready. Then it's time to deliver their pies on a bicycle built for two.
The bakery set includes: 1 measuring cup, 1 flour bag, 1 shelf, 1 counter display, 1 round table, 1 cupcake stand with 9 cupcakes, 2 cakes, 3 slices of cake, 1 flower vase, 9 pies, 2 milk bottles, 1 mixing bowl, 1 donut tray with 6 donuts, 1 cookie tray with 6 cookies, 1 muffin pan with 6 muffins, 1 croissant tray with 3 croissants, 1 baguette basket with 5 baguettes, 1 rolling pin, 1 lump of dough with 1 cut out piece, 1 ginger bread man cookie cutter, 1 ginger bread man cookie, 10 loaves of bread, 1 open/closed door sign, 1 apron, 1 baker's hat, 2 oven mitts.
Total pieces = 85! Fun factor = immeasurable!
Li'l Woodzeez Bushytail™ Squirrel Family with Storybook
The Bushytail Family comes with 4 characters: father Oliver, mother Maggie and children Henry and Honeybun. This family also comes with the "Tickle-Your-Taste-Buds Bakers" storybook featuring the Bushytails.
Isabella has been watching lots of toy reviews on YouTube Kids – so she really wanted to do her own toy review for Li'l Woodzeez. I think she's a natural:
Buy Li'l Woodzeez
Li'l Woodzeez is avaiable at your local Target and at Target.com. You can also find Li'l Woodzeez on Amazon.com.
Win Li'l Woodzeez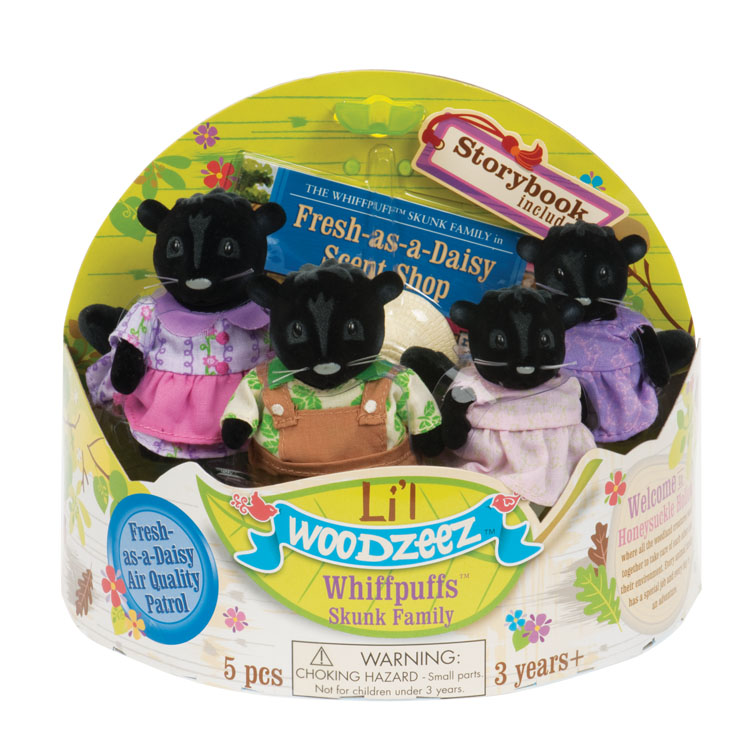 One lucky Long Wait For Isabella reader will win their own Li'L Woodzeez Skunk family. Enter the Rafflecopter form below for your chance to win. Open to continental US residents 18+.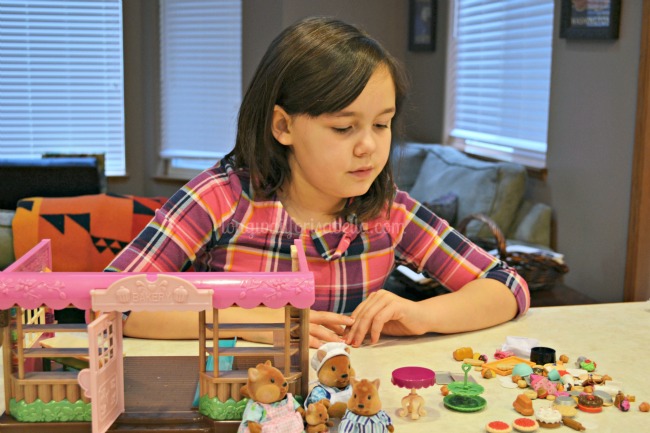 About Battat
Battat is a family-owned business that is 114 years old and has been in North America for over 40 years. We have been in the business of designing and manufacturing high-quality toys for more than 40 years. Our motto has always been to supply these toys at affordable prices, keeping in mind that every toy we make has to have some redeeming value for children using it.
Disclosure: I was sent the above products for review. No other compensation was given. My love for Li'l Woodzeez is all my own.