We played and learned as part of a sponsored post for Socialstars and Playskool.
Last month I shared with you how much my Little Man loves watching Elmo play with his friends on Sesame Street. He really can have his own play date with this amazing Elmo toy! If you missed that blog post, then by all means meet Play All Day Elmo today. This is THE toy for toddlers this holiday season.
You know what I love about it, besides it being Elmo? This cuddly and interactive Elmo toy has 150+ responses, plus 8 games and activities to help keep kids engaged. When playtime is over, preschoolers can cuddle with him while listening to a lullaby.
That's a lot of stuff inside this awesome toy to keep my Little Man happy. They say, "Happy Wife, Happy Life" but I say, "Happy Toddler, Happy Life". Who's with me? Playskool makes life a bit more happy in the Long house with this toy.
[Tweet "Happy Toddler, Happy Home. Right?! Get THIS toy! #PlayskoolCrew"]
Play All Day Elmo has a Toddler and a Preschool Mode. We've graduated to the Preschool Mode now. I love that both both younger and older children can have fun with this toy! In Toddler mode, young children can enjoy basic cause-and-effect play, like tickling Elmo or squeezing his nose to see how Elmo might respond.
Games and Activities Available in Preschool Mode
The real gold is found in Preschool Mode. Which, honestly, I think toddlers can enjoy too. Here are the amazing features of Preschool Mode:
Hop and Count
Pat-a-Cake
Freeze Dance
Animal Sounds
Elmo Says
Color Guessing
What's Up in the Sky
Red Light Green Light
Nap Time
When playtime is over the kids can even snuggle with Elmo. Squeeze Elmo's nose once and he will play a soft lullaby with gentle music. A second squeeze of Elmo's nose will make him play a soothing instrumental lullaby. Score! Elmo is even helping with nap time.
There are so many holiday toy options for toddlers and preschoolers. I know you are constantly bombarded with ideas of what to purchase. But believe me, if your kid loves Elmo, then this is THE toy to get this holiday season. Endless fun and cuddly snuggles – play, learning, fun, and more!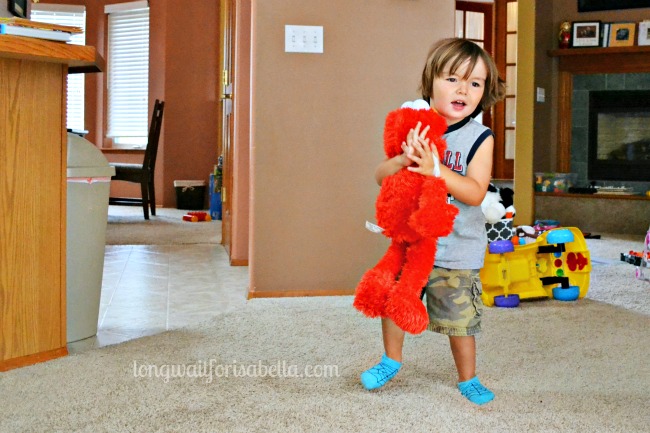 *Play All Day Elmo is age rated for 18 months to 4 years.