Fall is such a fun time of year for us in the Pacific Northwest. The colors are unimaginably beautiful. We get misting rain, fog, and sunshine that can steal your breath away. It's still warm enough to wear a rain coat and rain boots outside and be comfortable and in the evening you can have a warm drink and cookies and just listen to the rain hitting the glass of the sky lights. It is, quite possibly, my favorite time of year. Back to school, my birthday, Halloween, and Thanksgiving are all events that I look forward to.
Do you and your kids love walking through puddles and playing outside in the rain during the fall?
We love making family memories in the Fall. But, one thing I don't love is all the dirt and mud that gets tracked in my house. It's inevitable – but I still dislike it. Not only is the dirt and mud an annoying effect, but we have light carpet in most of the house. Carpet and Fall don't mix very well. Keeping the carpet clean is not easy.
My husband is currently building a block wall in the backyard. There is so much mud – in our damp Pacific Northwest weather the ground isn't drying up. Guess who wants to go outside with daddy? Yes, my three year old loves playing back there in the mud. Getting him to come inside without any mud and dirt? Well, that's a true feat.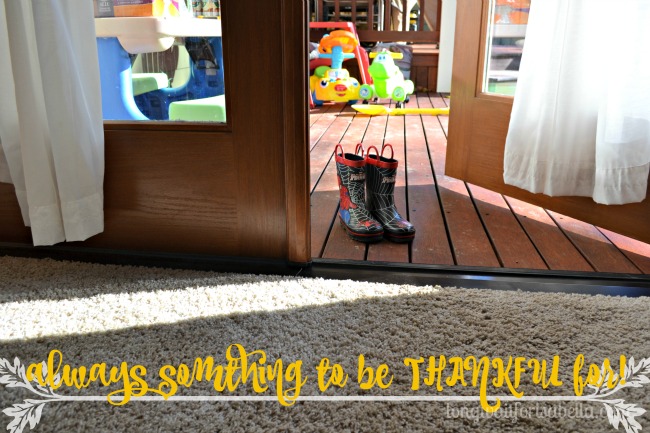 Thankfully, I have this amazing new cordless vacuum cleaner that I can quickly whip out when dirt and mud get tracked into the house. Honestly, I hate vacuuming. Hate it. Taking it out, unwrapping the cord and plugging it into various outlets in our home – it's misery. So a cordless vacuum? Well, I am SOLD!
[Tweet "Vacuuming is much better with a cordless from @HooverUSA!"]
The Hoover Air™ 2-in-1 Stick & Handheld Vacuum is one of the four cordless vacuum cleaners that Hoover offers. I love how light weight this vacuum is. I can clean the carpet in my whole house and not worry about cords, plug-ins, coiling, or tripping. I am in vacuum heaven with this machine.
The LithiumLife batteries have a long run time and can be used interchangeably in all the Hoover cordless line. This vacuum really does clean well too. The Air features Windtunnel 3 technology. There is strong suction power to lift and remove dirt. I needed this in my home – especially this fall.
The mobility of this vacuum is amazing too – I can twist and turn and get all the corners in my house so easily. When I feel like it, I can detach the handheld and do some spot cleaning – usually around the entryways and under my son's seat under the bar stools.
In my busy lifestyle, I needed a cordless vacuum – I can't believe I was cleaning this long without one! 
I was selected for this opportunity as a member of Clever Girls and the content and opinions expressed here are all my own.