Have you seen the latest Disney Pixar film available for purchase? We watched Inside Out with the kids a couple weeks ago and LOVED it. This is a must watch family friendly movie. Much of the intelligent themes and humorous lines did go over my kid's heads but they absolutely loved it.
About Inside Out
Do you ever look at someone and wonder what is going on inside their head? Disney Pixar's original new film "Inside Out" ventures inside the mind to find out. Based in Headquarters, the control center inside 11-year-old Riley's mind, five Emotions are hard at work, led by lighthearted optimist Joy (voice of Amy Poehler), whose mission is to make sure Riley stays happy. Fear (voice of Bill Hader) heads up safety, Anger (voice of Lewis Black) ensures all is fair and Disgust (voice of Mindy Kaling) prevents Riley from getting poisoned—both physically and socially. Sadness (voice of Phyllis Smith) isn't exactly sure what her role is, and frankly, neither is anyone else.
When Riley's family relocates to a scary new city, the Emotions are on the job, eager to help guide her through the difficult transition. But when Joy and Sadness are inadvertently swept into the far reaches of Riley's mind—taking some of her core memories with them—Fear, Anger and Disgust are left reluctantly in charge. Joy and Sadness must venture through unfamiliar places—Long Term Memory, Imagination Land, Abstract Thought and Dream Productions—in a desperate effort to get back to Headquarters, and Riley.
Doesn't this sound like such a fun movie? Get it this holiday season! Here are some great printable activities for you and your family to enjoy as well.
Inside Out Recipes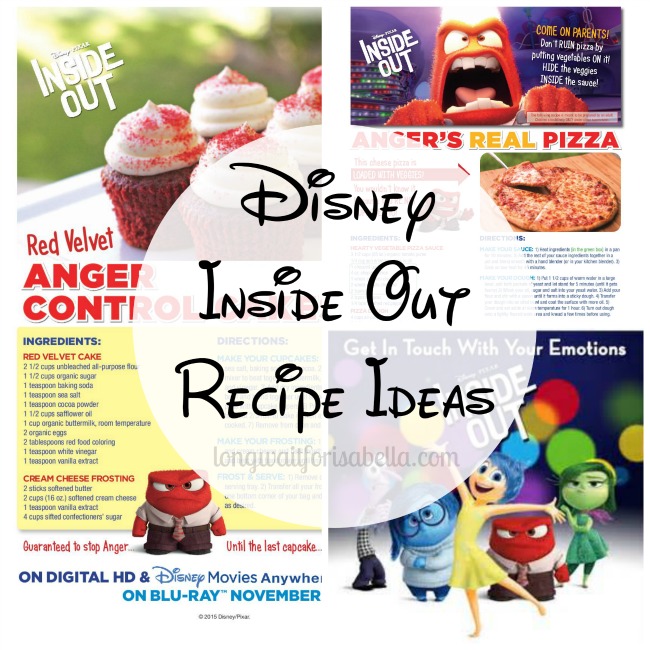 In this recipe PDF you'll find:
Anger's Real Pizza
Anger Control Cupcakes
Inside Out Coloring Pages

You'll find four printable coloring pages in this PDF. You and the kids can color:
Sadness
Joy
Sadness & Joy
Disgust, Anger & Fear
You'll also find an activity page and four dot-to-dot printable pages in the above PDF! Plus, don't forget to take the cool color quiz. What's going on inside your head right now? Take the Inside Out Color Quiz today!
Inside Out Activity Pages

In the Inside Out Activity Pages printable PDF you'll find:
Activity Pages
Memory Cards
Alphabet Mix-up
Code Game
Do you scrapbook? If so, you can also print out Core Memory scrapbook embellishments! Reminisce with your family over the first time you saw or did something like, "celebrated their 1st birthday," "first day of school," "first school dance," "first family vacation," etc. This is a great way to share milestones with your family while doing this fun activity putting all of those photos you've been meaning to put together in a fun scrapbook.
Buy Disney Pixar Inside Out
Inside Out is now available on Blu-ray combo pack! This will make a great gift this holiday season!
Connect with Inside Out
Facebook | Twitter | Instagram
Disclosure: I was sent the above movie in compensation for this post. All opinions are mine alone.