We had a great family date night last night at the Ringling Bros. and Barnum & Bailey® Presents Built To Amaze! show in Everett, Washington at the Xfinity Arena. What I love about this circus show is that an hour before the show begins, guests can go to the floor for an interactive all-access pre-show. Audience members can pick up dance moves, learn circus tricks, try on costumes, walk the tight rope, and so much more! It is a fun part of the family date night experience.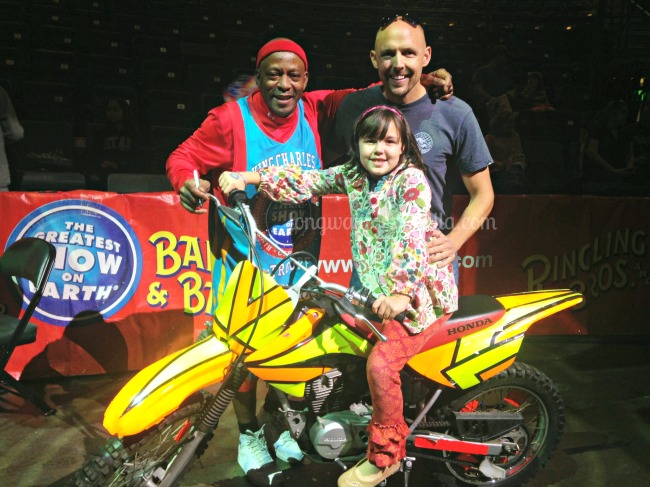 My husband thought that Ringmaster Andre McClain did a fantastic job leading and singing throughout the show. His absolute favorite part of the show was the Crossbow Casanova act. Andre McClain presents an insanely accurate crossbow act shooting arrows through a thin piece of paper and the stem of a flower held in the mouth of his lovely assistant Ashley Vargas plus ending the act shooting off eight crossbows at once shooting the last arrow at an apple on top of his head.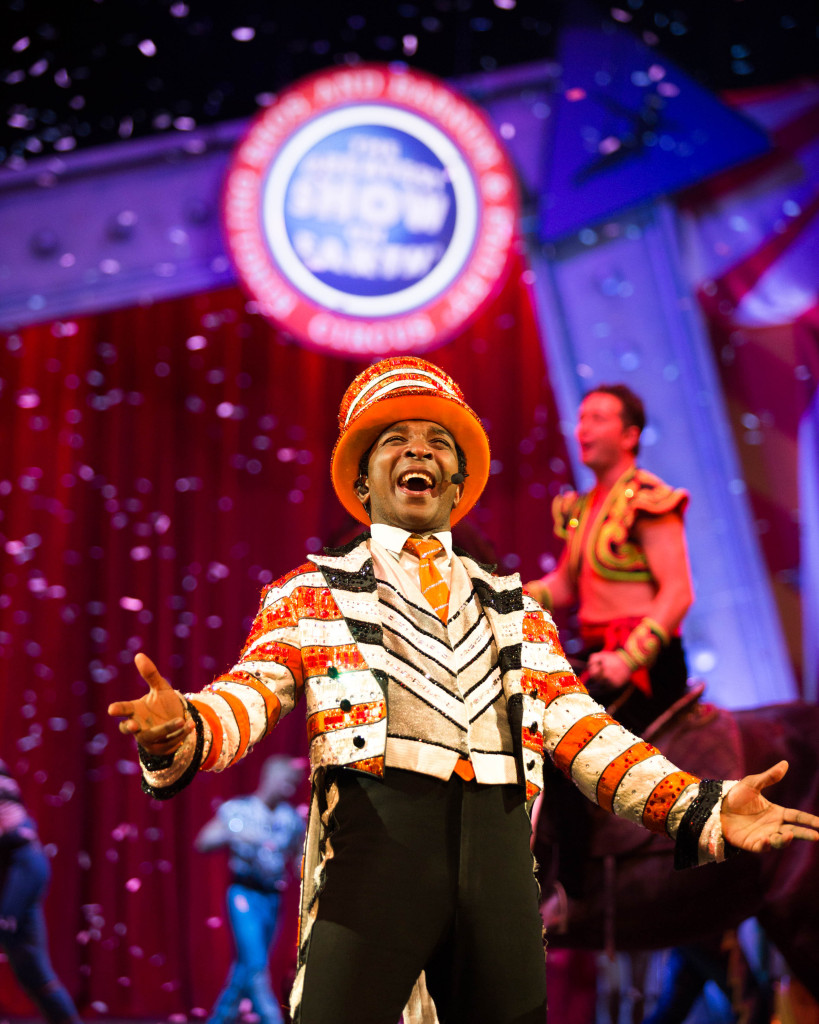 My daughter actually loved the clown acts with the audience volunteers the best. It was pretty funny. There was a point in that act that both her and I had tears of laughter streaming down our face. I highly recommend this fun-filled show. There are so many fun things to see and a diverse amount of acts.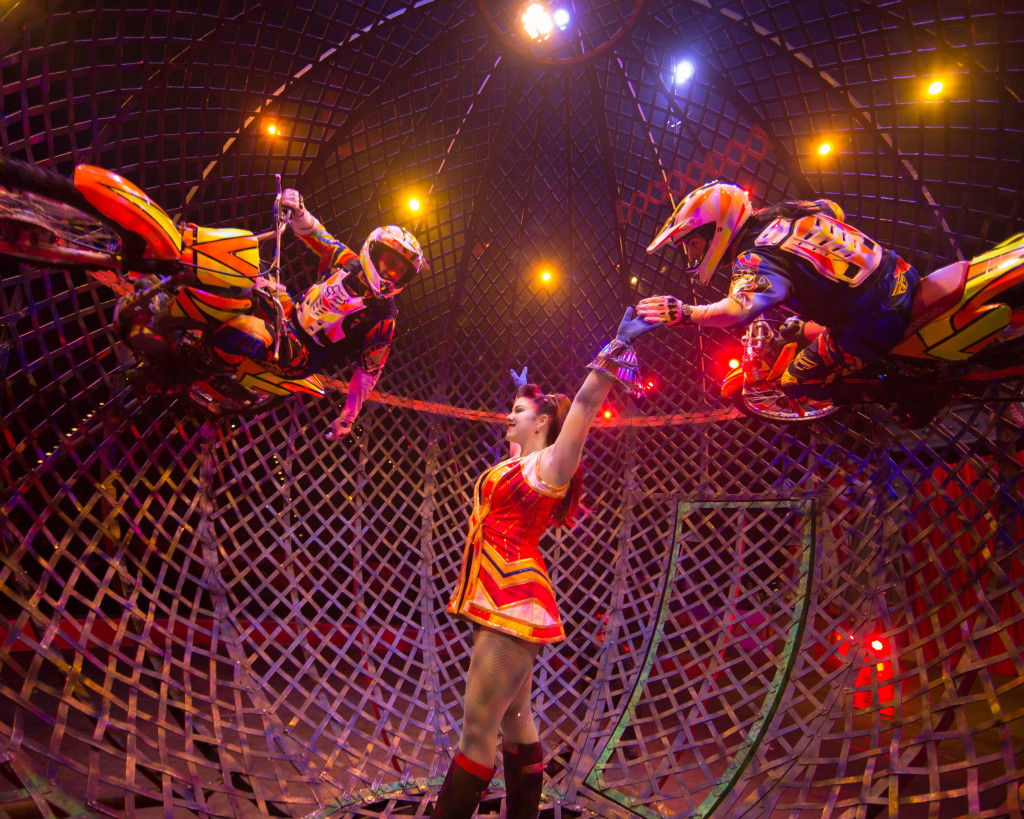 My favorite part of the show were the daredevil motorcycle stunts inside the Globe of Steel and the heart-pounding tricks on the Dual Wheel of Steel. So amazing! Seeing the motorcycles inside that round ball of steel? Edge of your seat family fun!
Last night was just the opening night. Locals! You can see Built to Amaze all weekend. There are six more shows:
E V E R E T T
WHEN:          Thursday, October 1 – Sunday, October 4, 2015
Thursday, Oct. 1                   7:00 PM
Friday, Oct. 2                         7:00 PM
Saturday, Oct. 3                    11:30 AM, 3:30 PM & 7:00 PM
Sunday, Oct. 4                      1:00 PM & 5:00 PM
                        **All Access Pre-Show begins one hour prior to each performance
WHERE:        XFINITY Arena at Everett – 2000 Hewitt Ave., Everett, WA 98201
TICKETS:     Ticket prices range from $20, $25, $35 (VIP), $45-55 (Floor Seats)* and $60-70 (Ringside)*
Kids tickets (ages 2-12) available for only $10 each on select seating/shows (only valid for Sat. 3:30pm and Sun. 1pm shows; limit 3 kids tickets per full price ticket purchase)
Opening Night tickets discount priced at $12 each on select seating (not valid for VIP or Floor Seats)
*prices vary between weekday/weekend performances
All seats are reserved; tickets available for purchase online at www.xfinityarenaeverett.com,charge by phone at 866-332-8499 or in person at the XFINITY Arena Box Office.
**tickets may be subject to service charges, facility and handling fees. 
For more information, visit www.Ringling.com.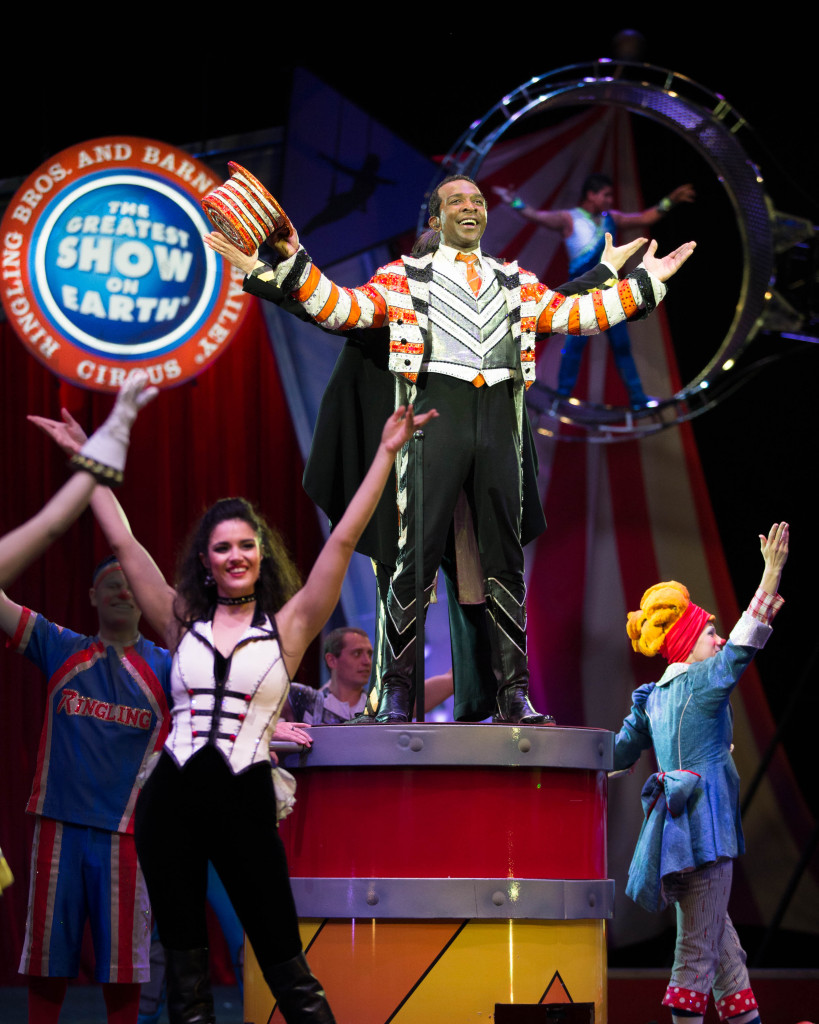 About Feld Entertainment
Feld Entertainment is the worldwide leader in producing and presenting live touring family entertainment experiences that lift the human spirit and create indelible memories, with 30 million people in attendance at its shows each year. Feld Entertainment's productions have appeared in more than 75 countries and on six continents to date and include Ringling Bros. and Barnum & Bailey®, Monster Jam®, Monster Energy Supercross, Nuclear Cowboyz®, AMSOIL Arenacross, Disney On Ice Presented by Stonyfield YoKids Organic Yogurt, Disney Live! Presented by Stonyfield YoKids Organic Yogurt and Marvel Universe LIVE!  More information about Feld Entertainment is available online at www.FeldEntertainment.com.