We played and learned as part of a sponsored post for Socialstars and Playskool.

My husband and I are selective about what our kids can watch on television. As I've mentioned in the past, we got rid of our cable and stream a lot of television shows, especially for the kids. But, we do catch some channels on our TV. One television station that we are thankful to catch is our local PBS. The kids can both enjoy some great kid-friendly entertainment that is also educational – including Sesame Street.
In fact, Elmo has been a big hit in our home for years. My oldest is now seven and she still loves watching Elmo on TV. We have a new Elmo toy in the houes, the Playskool Sesame Street Play All Day Elmo toy, and she could not wait to get it from her brother when he was done playing with it. They both love Elmo.
[Tweet "Even my 7-year old loves Elmo! Here's a HOT new toy for young kids. #PlayskoolCrew"]
Obviously my kids love this new Elmo toy, but I wanted to let you know what I especially love about the Play All Day Elmo. After watching countless episodes on television featuring Elmo, now my son gets to actually play with him. I mean, really play. This cuddly and interactive Elmo toy has 150+ responses, plus 8 games and activities to help keep kids engaged. That is a lot of potential play date time with Elmo!
[Tweet "Kids can honestly have a play date with Elmo! #PlayskoolCrew"]
There are two modes of play with this Elmo toy – Toddler and Preschool Mode. My three year old boy, of course, loves preschool mode. He gets to actually play pat-a-cake, freeze dance, Red Light Green Light, and more! I don't know how Playskool has done it, but Elmo has these awesome built-in sensors that help him respond to different activities in fun ways. He can actually react when he's in the air, when he's upside down, and even when he's moving around. It gives the illusion to my three year old that this Elmo toy is real – he is really truly having his own play date with Elmo.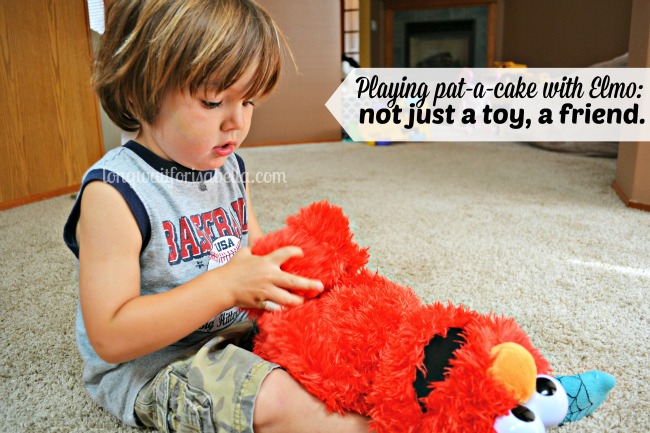 Do your kids love Elmo?