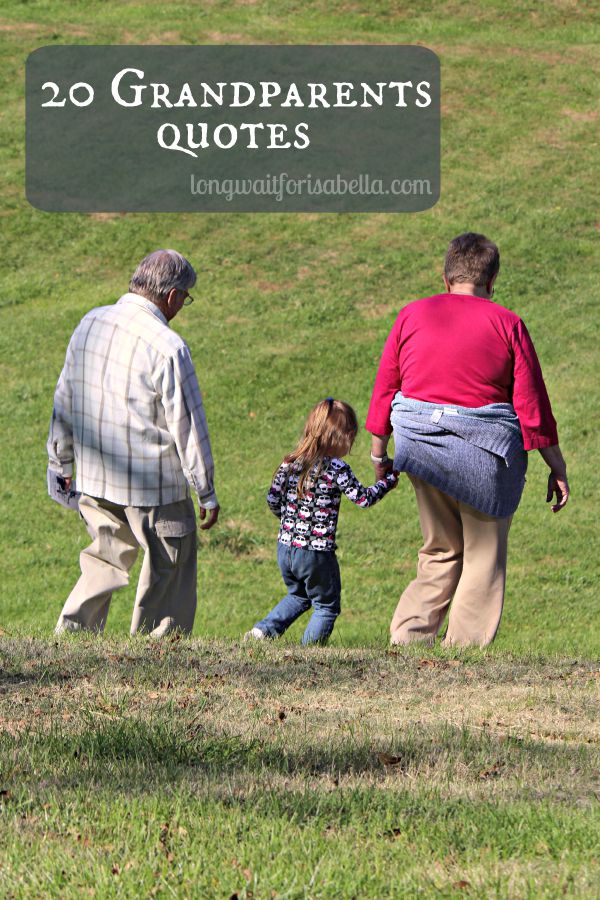 I am blessed to have one grandparent alive still – my grandpa. He's 82 and very active and still spoils me and my kids both. They call him Grandpa Greats. We see him numerous times per week because he only lives a mile and a half from our house. I never want to lose my grandpa. We've been close my entire life.
Last year for Grandparent's Day, I got my grandpa his favorite gift – chocolate. This year, I want to have the kids make him something too. Grandparents Day is coming up soon. Have you thought of what you'll give your grandparent? Maybe you'd like to give your parents a small gift from the kids. Here is a round up of quotes, crafts, and gift ideas that are perfect for those grandparents in your life.
20 Grandparents Quotes
Grandmas are moms with lots of frosting. ~Author Unknown
The old are the precious gem in the center of the household. ~Chinese Proverb
Perfect love sometimes does not come until the first grandchild. ~Welsh Proverb
Grandparents, like heroes, are as necessary to a child's growth as vitamins. ~Joyce Allston
A house needs a grandma in it. ~Louisa May Alcott
A Grandmother is a safe haven.  ~Suzette Haden Elgin
Never have children, only grandchildren. ~Gore Vidal
There's no place like home… except Grandma's. ~Author Unknown
If you would civilize a man, begin with his grandmother. ~Victor Hugo
Grandmas never run out of hugs or cookies. ~Author Unknown
Grandmothers are voices of the past and role models of the present. Grandmothers open the doors to the future.  ~Helen Ketchum
Grandchildren are the dots that connect the lines from generation to generation. ~Lois Wyse
A grandfather is someone with silver in his hair and gold in his heart. ~Author Unknown
If I had known how wonderful it would be to have grandchildren, I'd have had them first. ~Lois Wyse
Everyone needs to have access both to grandparents and grandchildren in order to be a full human being. ~Margaret Mead
If nothing is going well, call your grandmother. ~Italian Proverb
If grandmas hadn't existed, kids would have inevitably invented them. ~Arthur Kornhaber, M.D.
There's nothing like having a grandchild to restore faith to heredity. ~Doug Larsen
Surely, two of the most satisfying experiences in life must be those of being a grandchild or a grandparent. ~Donald A. Norberg
Grandparents are the footsteps to the future generations. ~author unknown
[Tweet "20 quotes that are perfect for Grandparents Day! #FCBlogger"]
Preschool Craft Gifts
Here are preschool age appropriate craft ideas for Grandparents. Handmade gifts are often the best gifts, aren't' they?
[Tweet "Give them the gift of handmade #Preschool #Crafts! #FCBlogger"]
Gray hair is a crown of splendor; it is attained in the way of righteousness. Proverbs 16: 31
Family Christian Gifts Ideas for Grandparents
Sometimes, buying a gift for the grandparents is just easier. Thankfully, Family Christian offers some great gift ideas that are perfect to give to grandpa and grandma. Here are five options, but you will find many more in-store and online.
Connect with Family Christian
Facebook // Twitter // Google+ // YouTube
[Tweet "Faith themed grandparents gifts are a great option! #FCBlogger"]
Children's children are a crown to the aged, and parents are the pride of their children. Proverbs 17: 6
Disclosure: This is a sponsored post with Family Christian. All opinions are mine alone. This post contains affiliate links.