We played and learned with Playskool as part of a sponsored post for Socialstars.
This Thanksgiving we are taking a multigenerational family vacation to Florida. We'll be spending a week in Key West and then spend three days in Daytona Beach. During the time we are in Daytona Beach I am going to take the kids up to Disney World. We are all pretty excited about the vacation this year.
Are you taking a family vacation soon? If so, where will you be heading?

Flying with Kids: Tips and Tricks
My daughter has always been a great airplane traveler. She's has been able to occupy herself and keep entertained since she was two. It's been great. My Little Man, well, he needs a bit more help. By now, we've become traveling with kids experts. Here are a few tips and tricks we've learned over the years that hopefully will help you.
Practice sitting in the rows at home by sitting in kitchen chairs
Fly during their nap or if it's a long flight fly at night
Bring a weather-proof cover for the car seat
Put them in shoes that are easily removed
Get on the flight last so you aren't sitting longer than necessary on the plane; boarding can take a long time
Take advantage of layovers and let them run
Use the aisle and walk around
Visit other friendly passengers
Pack lots of snacks – but not too much sugar
Bring a portable DVD player with new movies
Bring books
Download new apps on your phone
Pack new toys they've never played with
[Tweet "13 smart tips and tricks to fly with kids! #PlayskoolCrew"]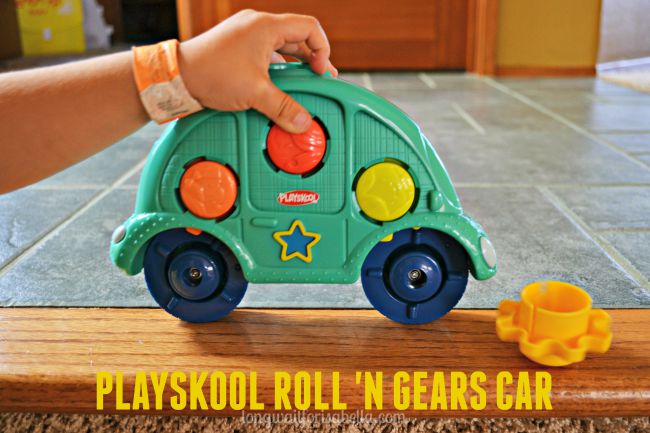 PLAYSKOOL ROLL 'N GEARS CAR
A great toy to bring on the aiplane for toddlers and preschool age children is the new Playskool Roll 'n Gears Car from their great Play, Stow and Go line of toys. It is small enough to travel with but still be very fun for kids to play with. It can keep my Little Man busy for quite some time.
This car is under $10 and features:
5 removable and stackable gears with 9 places to arrange them
Open the car to build a hand-powered sequence of spinning gears
Close the car for classic rollin' vehicle play
Gears snap inside the car for space-saving storage and portability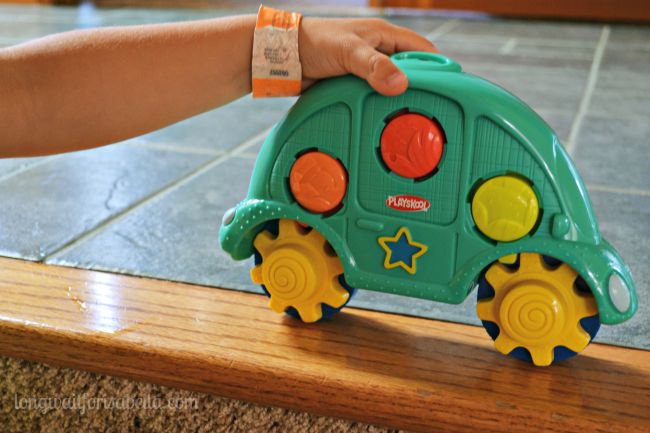 [Tweet "Keep your child busy on the airplane with this fun car under $10! #PlayskoolCrew"]
Do you have any great airplane travel tips? Share them in the comments below.