Sunday night was a girl's night out for my daughter, her best pal from school, and her mom and I. None of us had been to a Broadway musical and we were all excited that Annie would be our first together. We drove to downtown Seattle to see Annie on opening night to a large crowd of other families. It was a great experience.
Have you seen a Broadway play or musical? If so, which one?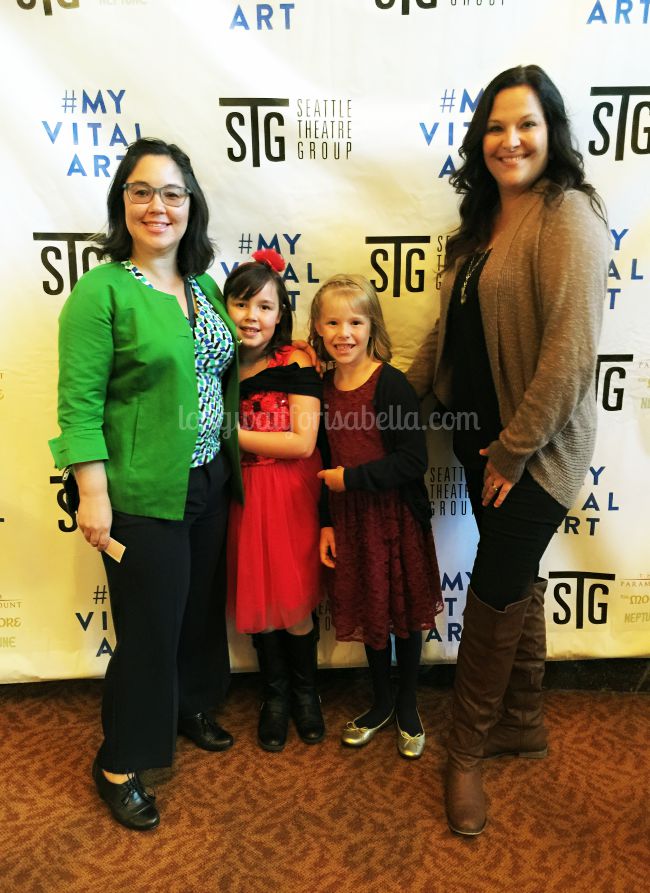 If you have not been to the Paramount Theatre in Seattle it is a MUST experience. Opening in March of 1928, the Paramount Theatre is breathtaking. True architectural majesty, indeed! On March 1, 1928, the Seattle Theatre opened. The Seattle Times heralded the occasion with enthusiasm:
Never has such a magnificent cathedral of entertainment been given over to the public. Indescribable beauty! Incomparable art! The stage productions will be of the most lavish design, brilliant in their lighting effects and gorgeous in their settings. source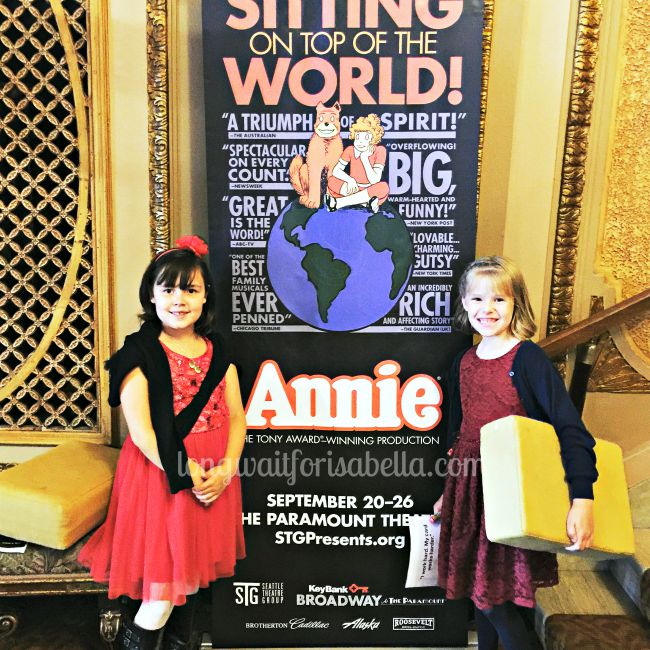 This brand new production features a 25 member company: in the title role of Annie is Issie Swickle, a 10-year-old actress from Davie, FL, making her tour debut. Gilgamesh Taggett will star as Oliver Warbucks. In the role of Miss Hannigan is Lynn Andrews. Also starring in the tour are Ashley Edler as Grace, Garrett Deagon as Rooster, Lucy Werner as Lily and Jeffrey B. Duncan as FDR. Sunny, a 5-year-old rescue terrier mix, stars as Sandy.
Right when the curtain opened, we were amazed. The set design was fabulous and looked so realistic. It was opening night and I didn't notice anything amiss. The production was so professional and entertaining for all ages. Though, our girls did get tired, they still had a fabulous time at the show.
Lynn Andrews does any amazing job playing Miss Hannigan. She really stole the show in my opinion. There is no one like Carol Burnett, but Andrews is such a wonderful actress – you really loved hating Miss Hannigan and there was a lot of laughter for her antics.
[Tweet "Don't miss Lynn Andrews playing Miss Hannigan! #AnnieOnTour"]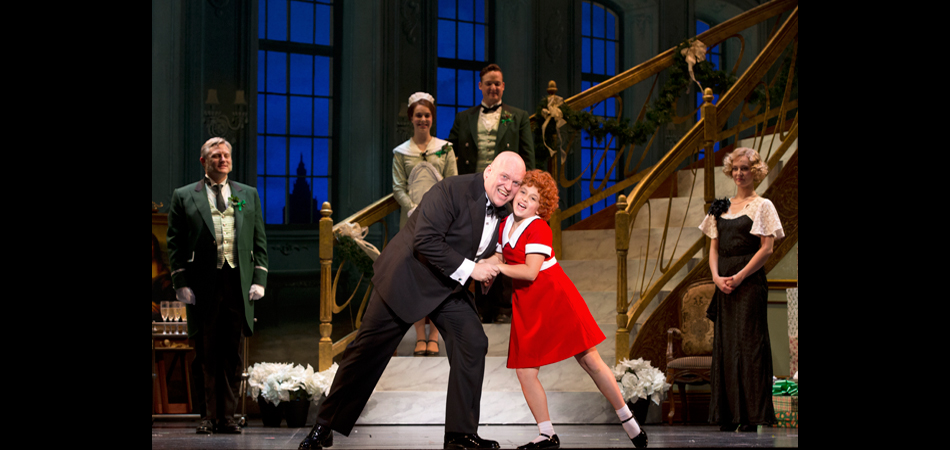 ANNIE will be at Seattle's Paramount Theatre for eight performances.
The schedule for the Seattle Engagement
Sunday, September 20 1:00 pm and 6:30pm – An Open Caption performance
Tuesday, September 22 7:30pm
Wednesday, September 23 7:30pm
Thursday, September 24 7:30pm
Friday, September 25 8:00pm
Saturday, September 26 2:00pm – An ASL* / AVIA Interpreted performance
*For tickets to the ASL- Open Caption performances, call the TTY line at 888-331-6774
Tickets for ANNIE start at $25 and will be available on-line at stgpresents.org and tickets.com, by calling 877-STG-4TIX (784-4849), at select Ticketmaster locations and in person at The Paramount Theatre Box Office (Monday through Friday, 10am to 6pm).
Connect with ANNIE
www.anniethemusical.com | Facebook | Twitter
Annie Family Night
Wednesday, Sept 23rd @7:30 pm is Annie Family Night. You can buy one adult ticket and get a child ticket free*!
Use promo code: FAMILY
*Not valid on previously purchased tickets and cannot be combined with any other offer. Must be 18 years old or younger for child's ticket.
Log in to this site, click on GET TICKETS, then click on Wednesday, Sept 23 show and plug in the code!
[Tweet "BOGO ANNIE Broadway #Seattle tickets for 9/23. #AnnieOnTour"]
Disclosure: This is a sponsored post. All opinions are mine alone.