This is a sponsored post with Tasteful Selections. All opinions are mine.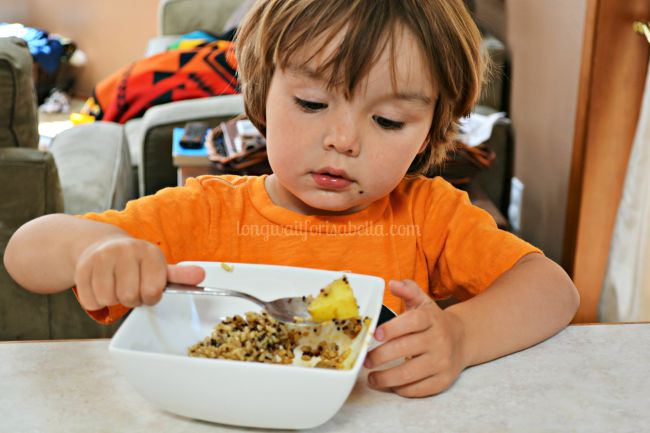 We've been on our annual Canoe Journey this past weekend. Our family canoe is paddling with dozens of others to Seattle. The Muckleshoot Tribe is hosting this summer. I'll be honest and say, I haven't been to the grocery store much and my fresh fruit and vegetable drawers in my fridge are kind of bare this week.
My Little Man and I took a day off from Canoe Journey – it was a 10-12 hour canoe pull yesterday and I just didn't feel like having him on the boat that long. So for lunch I scoured the fridge, freezer and pantry and came up with a dish I knew we'd both love: Mock Duck Yellow Curry.
Mock Duck Yellow Curry
What I love about yellow curry and Asian food in general is the ability to through any ingredients you have into a pan and cook them together. I didn't have much this week in terms of fresh vegetables to cook, but I did have potatoes. I don't know about you but I love how long potatoes stay good. They are so reliably wonderful. Thankfully, I had a bag of frozen stir-fry, a can of mock duck, and a bottle of yellow curry simmering sauce. Of course, this dish tastes great with fresh vegetables, tofu, and your own curry spices and coconut milk – unfortunately I didn't have all that.
Ingredients:
3 small red potatoes, diced
2 cups stir fry vegetables
1 can of mock duck
1/2 jar of yellow curry simmering sauce
Directions: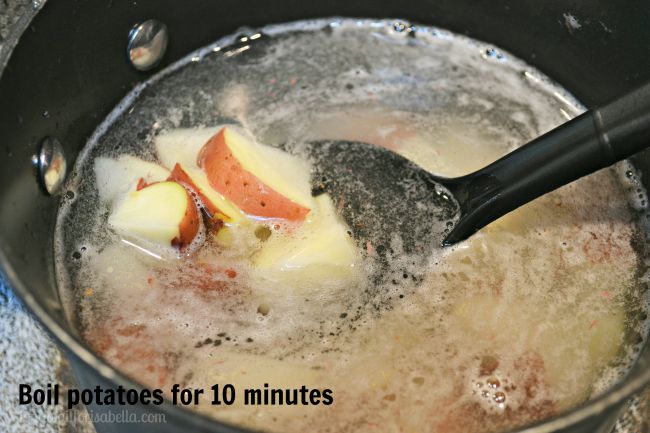 I love that Tasteful Selections potatoes boil up so quickly. Ten minutes and they are done. While they potatoes are boiling I started the frozen stir fry vegetables over med-high heat. This really is a quick recipe and one that the whole family loves.
One potatoes are boiled mix with stir fry and add mock duck.
Top with yellow curry simmering sauce. Mix together and let simmer for a few minutes.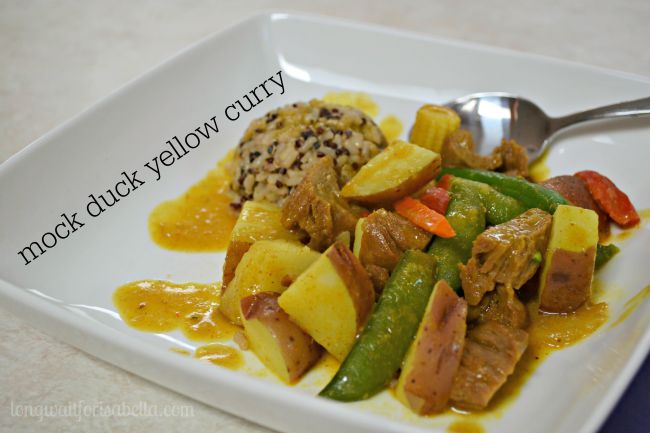 About Tasteful Selections Potatoes

With small sizes and proprietary flavors, each variety of Tasteful Selections potatoes has been tested to assure that it meets the highest standards for quality, taste, texture and culinary experience. Reimagine comfort food with our prewashed, fast cooking potatoes that don't need any peeling. For this recipe I used Ruby Sensations potatoes.
#RescuedMoments Sweepstakes
Enter here to win a trip for two to San Francisco to have your own private cooking session with an award-winning chef at his newest restaurant, Cadence in downtown San Francisco! Chef Joey Elenterio is ready to give you some amazing tips to make life easier in the kitchen and Rescue your Moments!