My kids LOVE Miles from Tomorrowland. In fact, to be honest, I kind of like watching it with them too. It's entertaining and the music is catchy. We don't have cable so we don't get to watch this show as often as my kids would like. Thankfully, there is a new Miles from Tomorrowland DVD available to buy with 5 double episodes!
Miles from Tomorrowland Party Ideas
If you'd like to host a Miles from Tomorrowland party, here are some great ideas:
What great Miles from Tomorrowland party ideas do you have?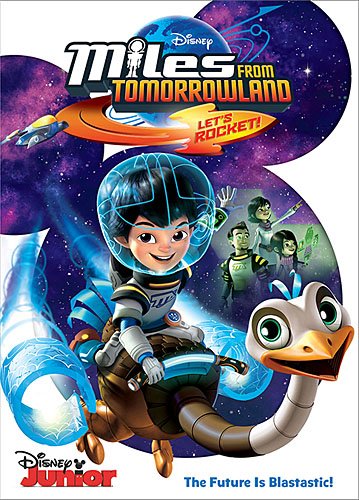 About Miles from Tomorrowland
Disney Junior's "Miles from Tomorrowland" is an intergalactic adventure that charts the outer space missions of young adventurer Miles Callisto and his family – mom and ship captain, Phoebe; mechanical engineer dad, Leo; tech-savvy big sister, Loretta; and best friend robo-ostrich pet, Merc – as they help connect the galaxy on behalf of the Tomorrowland Transit Authority. Miles, Merc and the Callisto family explore wondrous and diverse new worlds, taking young viewers and their families on a futuristic journey designed to fuel kids' natural interest in space, and at the same time reminding them of the importance of what lies close to home – the family bond.
Five double episodes of Miles From Tomorrowland are now available on the Let's Rocket DVD:
Runaway Shuttle/Surfin' The Whirlpool
Ocean In Motion/Explorer Exchange
Game On/How I Saved My Summer Vacation
Who Stole The Stellosphere/Rock N' Roll
To The Goldilocks Zone/Hiccup In the Plan
Do your kids love Miles from Tomorrowland as much as mine do?
Buy Miles from Tomorrowland
Let's Rocket is available for purchase on DVD from Amazon.com
For more information visit:
Disney Junior | Facebook | Twitter | YouTube
Disclosure: I was sent the above DVD for review. All opinions are mine alone.