Thank you Micro Kickboard for sponsoring today's post. All opinions are mine alone.
We have been experiencing some great weather, albeit hot weather, here in Western Washington. This is the kind of heat that you cannot stay inside for. It's the kind of heat where you get out of the house, 'cause the house is too hot. Most days, I have a hard time getting my daughter outside during the summer for physical activity. She'd rather read, play, or stream television shows than go outside to play. But, I understand the importance of helping  kids stay active during the summer months.
Staying Active Helps*
You Live Longer
Feel Better About  Yourself
You Sleep Better
Have Stronger Muscles and Bones
Stay or Get to a Healthy Weight
Have Fun
[Tweet "6 Health Reasons for Kids to Stay Active! #MicroFriends"]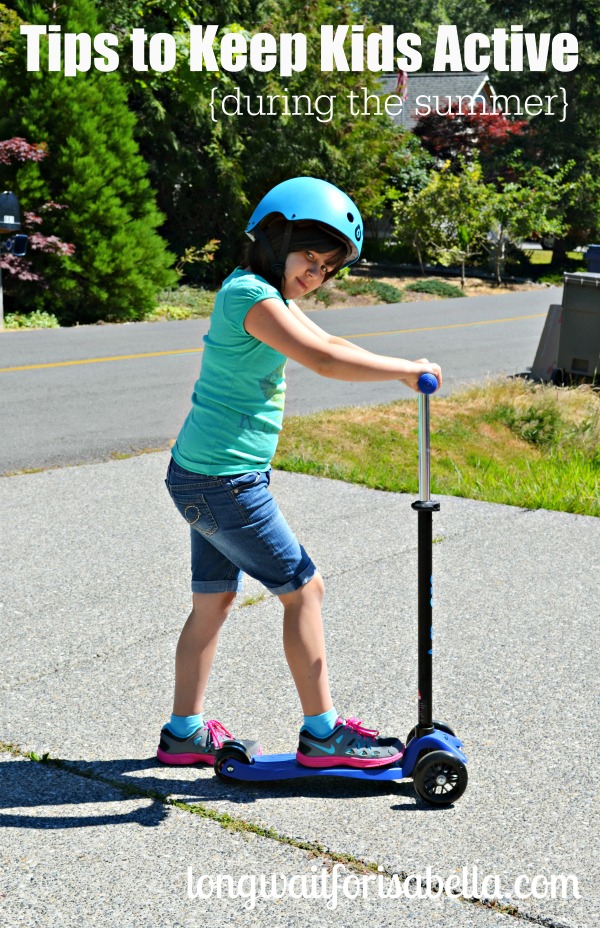 There are days when I have to force my daughter to go outside to play. Thankfully, she does have a new scooter entices her outdoors. She wasn't interested in riding her two wheel scooter. She didn't have the control she was used to when she had a Micro Mini Kickboard scooter. (It's pink and now her brother rides it.) But now, she is loving her larger sized Micro Maxi Kickboard scooter.
3 Easy Tips to Help Kids Stay Active
Is your child like mine and does not want to go outside during the summer months? If so, here are three tips to help them stay active this summer.
1. Provide age-appropriate activity options – this past year we upgraded my daughter's  bike to a larger bike. We also have the new scooter just her size. Both of my kids have loved the new water slide as well – especially in this heat.
2. Bring them to new locations – decide to visit all the free parks in your county. Make it fun by creating a list you can cross off together. Check out this 12 park activities post.
3. Get involved – many times my daughter just wants the whole family involved in outdoor activity. Family walks, family rides, swimming at our local pool, playing croquet – these are all activities we enjoy as a family.
About the Micro Maxi Kickboard Scooter
The Micro Maxi Kickboard is the highest rated scooter for ages 5 to 12.  The smooth gliding award winning Maxi has a curving and carving action that allows kids to surf the sidewalk like a skateboard, with the handlebar providing greater control and maneuverability. Kids use their body weight and handlebar to lean into a turn, resulting in smooth, safe turns.
The Micro Maxi has the smoothest, quietest ride available thanks to high quality polyurethane wheels and a flexible fiberglass reinforced deck, which together absorb bumps in the sidewalk. Safety certified by the CPSC, the Micro Maxi is recommended for kids up to 110 lbs. Its exceptionally strong construction is flexible and light weight, making it a great cruising scooter for urban and suburban neighborhoods alike.
[Tweet "Have you seen the highest rated scooter? We LOVE it! #MicroFriends"]
STEERING – Choose between the traditional T-Bar or the Joystick for maximum curving and carving action. The handlebar styles are interchangeable and available as an Accessory, so if you choose the T-Bar to start you can upgrade to the Joystick as skills develop. Both Maxi's steering sticks extend from 24 in to 34 in above the deck.
[Tweet "Safety first, parents! Don't forget the helmet when riding the scooter. #MicroFriends"]
Want to see a video of this award winning scooter?
Connect with Micro Kickboard
Facebook | Twitter | Pinterest | Instagram | Google+