Last night I woke up five times with my children. Three times were for my three year old, who I finally let crawl into bed with me. Two times were with my seven year old; I thought we'd be passed this stage by now. Both were afraid of something absurd (to me, but not to them).
Truthfully, I was tired, stressed, and angry and I didn't handle these situations well at all. Things like, "You're not a baby", "Can't you just close your eyes?", and "I'm so frustrated!" came out of my mouth in an unkind voice more than once.
No, I am not a perfect mom. Far from it. And I humbly own up to my mistakes.
So, today as I am thinking about my reactions, and feeling ashamed and unkind, I wanted to make an intentional decision to do a better job next time. (Which honestly could be tonight!)
5 Ways To Help a Scared Child (at night)
Talk – let your child explain in detail what they are afraid of. Simply by listening to your child's fears, they will feel better. Let them voice their concerns and your child will appreciate your concern. Allow them to be scared and let them know it's okay to ask for your help.
Pray – pray out loud with your child. Claim Bible verses about overcoming fear. If you don't pray with the kids then fill their minds with encouraging and uplifting words. Don't use words that harm or put the child down. Don't criticize your child for their fears.
Provide Physical Comfort – lay down next to your child if possible. Help them fall back asleep. Let them feel security with your presence. Rub their back and use those soothing words.
Remove the Scary Triggers – sometimes a scary cartoon, book, or movie affects your child at night. You might not even think the movie was scary. In fact, my daughter had a few nights where she didn't want to sleep alone after watching a Bible movie. We quit watching that particular movie with her.
Provide "Helps" – a child will often feel more brave about sleeping when there is a light left on in the bathroom or hallway. A child also might appreciate a flashlight. My kids both have pillows and stuffed animals that light up. We use a sound app on the iPad to also help the kids sleep. It blocks out "noises" that they might consider scary. I've also seen some great Monster Spray recipes for kids that I know my younger child would love.
My daughter loves claiming Bible verses when we pray. So I looked up a lot of Bible verses on fear and courage and narrowed them down to eight that I know she'd appreciate.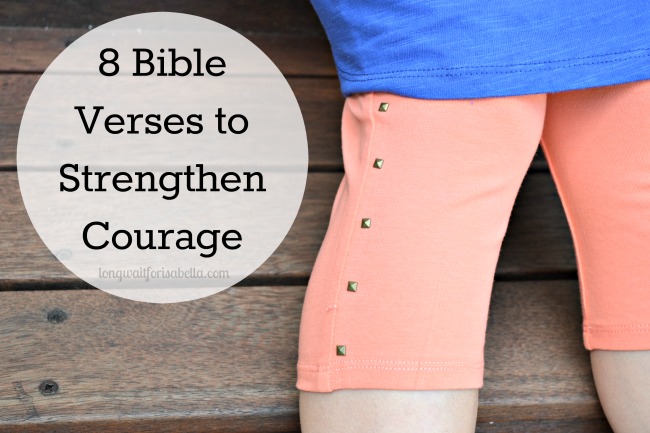 The LORD is my light and my salvation; Whom shall I fear? The LORD is the strength of my life; Of whom shall I be afraid? Psalm 27: 1
Be strong and of good courage, do not fear nor be afraid of them; for the LORD your God, He is the One who goes with you. He will not leave you nor forsake you. Deuteronomy 31:6
When I am afraid, I will trust in you. Psalm 56: 3
Have I not commanded you? Be strong and courageous. Do not be afraid; do not be discouraged, for the LORD your God will be with you wherever you go. Joshua 1: 9
So do not fear, for I am with you; do not be dismayed, for I am your God. I will strengthen you and help you; I will uphold you with my righteous right hand. Isaiah 41: 10
For God gave us a spirit not of fear but of power and love and self-control. 2 Timothy 1: 7
There is no fear in love, but perfect love casts out fear. 1 John 4: 18
The LORD is with me; I will not be afraid. What can man do to me? Psalm 118: 6
[Tweet "8 Bible verses to strengthen your courage. "]
This is a sponsored post with FabKids. All opinions are mine alone. Connect with FabKids on Facebook.