This is a sponsored post with Tasteful Selections. All opinions are mine alone.
This year's king salmon season didn't go so well for our local fishermen. My grandpa (above) went out with his brother-in-law and caught a few king salmon but nothing like previous years. So, this year my grandpa purchased some Baker Lake king salmon from our local fish company, which our tribe owns. This week, he got up when the sun came up to BBQ the king salmon before it got too hot outside. (We are having record heat here in Western Washington!)
There were a few leftover pieces of BBQ salmon so I decided to make a family favorite: Salmon Chowder.
Does your family like salmon chowder? It is such an easy soup to recreate.
[Tweet "Leftover salmon? How about making a salmon chowder? #RescuedMoments"]
Salmon Chowder Ingredients:
1/2 C Carrots, diced
1/2 C Celery, diced
1/2 C Onions, diced
2 Cups Vegetable Broth
1 1/2 C Red Potatoes, diced
1 Can creamed corn
2 Cups Half & Half
2 Cups Salmon, cooked
1 t salt
1 t pepper
1 t Dill, fresh chopped
1 t Garlic Powder
2 T Olive Oil
Salmon Chowder Directions
1. Saute the carrots, celery, onions, garlic powder (or fresh garlic clove) in olive oil until the vegetables are tender.
2. Add vegetable (or chicken) broth, potatoes, salt, pepper, and dill to a pot. Mix in the sauted vegetables and let boil.
3. Simmer for 30 minutes until potatoes are tender.
4. Stir in the creamed corn, salmon, and half & half until all heated through.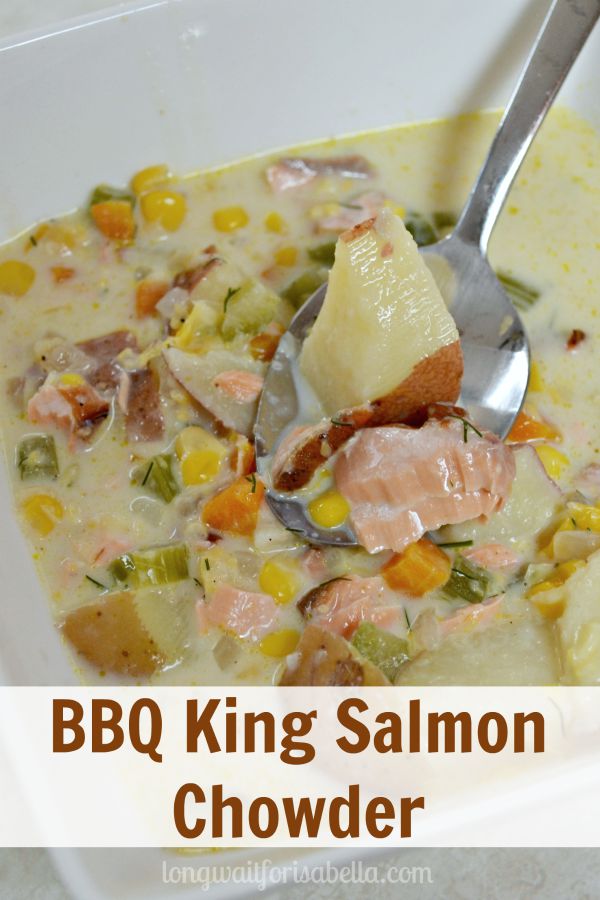 Enjoy!
About Tasteful Selections Potatoes
With small sizes and proprietary flavors, each variety of Tasteful Selections potatoes has been tested to assure that it meets the highest standards for quality, taste, texture and culinary experience. Reimagine comfort food with our prewashed, fast cooking potatoes that don't need any peeling. For this recipe I used Ruby Sensations potatoes.