This post brought to you by Stearns Puddle Jumpers®. The content and opinions expressed below are that of Long Wait For Isabella.
Our community pool opens every year on Memorial Day weekend. The kids cannot wait to go swimming. Our weather wasn't that great Memorial Day weekend, so this past week, when the pool opened at 3:30 pm, our kids enjoyed 70 degree weather in a very warm pool. It was absolutely wonderful.
My son, who is almost three, loves the pool and is a natural. He's like a fish. He's small, so it's cute to watch him jump in and swim around the pool. Thankfully, he can enjoy our pool safely because we have a Stearns Puddle Jumper.
Do your kids love swimming like mine? If so, this is the perfect time to brush up on some simple swimming pool safety tips.
10 Swimming Safety Tips for Kids
Walk, don't run along the pool side
Don't dive in shallow water
Never swim without a life guard present
Swim with a buddy
Swim in a depth that is safe for the child's ability
If the child cannot swim wear a flotation device
Don't push or jump on other people
Don't chew or eat while swimming – you can choke
Wear sunscreen
Drink plenty of water
What other swimming safety tips would you add?
[Tweet "10 important swimming safety tips for kids. "]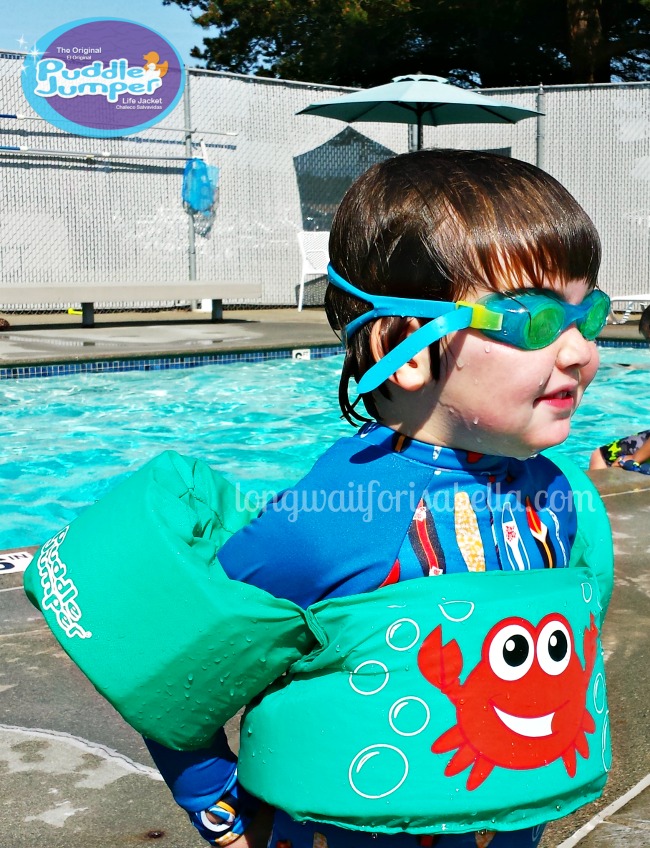 Stearns Flotation is an outdoor water equipment company. We have the Puddle Jumper. Isn't it so cute. My son is almost three and with his Puddle Jumper on, this toddler can swim! He loves it. These flotation devices are Coast Guard approved and come in bright colors and fun designs. I feel much better about letting my toddler play in the pool when he is wearing his Puddle Jumper. Seriously, they are so safe. The Puddle Jumper fits children 30 – 50 lbs. You purchase the Puddle Jumper and get more information at StearnsFlotation.com.