Before I had children, I took a road trip to Lodi, California with five other adults. We went to a Health and Healing Crusade to learn how to eat healthy vegan meals. We all rode together in a large SUV and since I was one of the youngest adults on the trip, I was stuck in the last row seating. I knew I was going to be sick due to motion sickness. I've spent my life battling motion sickness. Driving down through Washington, Oregon and Northern California, I decided to take some generic motion sickness over-the-counter medicine and though I was able to make the trip without throwing up – I felt funny, loopy and unable to interact and play games with the other adults in the vehicle. I'll never forget how the medicine made me feels, as I played magnetic Scrabble in the third row seating with my head lobbing to the side.
If you've read my blog enough, or visited my About Me Page, you'll realize that we have traveled all over North America for my husband's job. Since, I was a child I've suffered from motion sickness. I have vivid memories of feeling sick and throwing up almost every weekend on the way home from church (which was an hours drive away). So when I married a traveling minister and we drove cross country I basically had to listen to the radio and look out my window.
Do you suffer from motion sickness?
Now that my husband is only traveling around Western Washington for work, the kids and I mainly stay home during the school year. Not big car trips or flights for me; at least not until Summer break, which is now.
We have the following planned this summer:
Great Wolf Lodge (3 hour car trip)
Church Campmeeting in the RV (2 hour car trip)
Austin, TX (flight)
The Lawrence Welk Resort, CA (flight)
Annual Canoe Journey (driving, boating, and canoeing)
Victoria, BC (Ferry)
Friday Harbor, WA (Ferry)
Oh my! Those are all examples of travel where I would normally get motion sickness. I can't play car games, watch movies on the airplane, read or enjoy the family time that my husband enjoys with our kids. We are planning a visit to Disney World in December – the rides even make me feel sick. I couldn't enjoy any of those things until I got Dramamine Non-Drowsy Naturals.
[Tweet "54% of women experience motion sickness! Try #Dramamine ladies!"]
Remember, on my road trip to Lodi how loopy I got? That was because I didn't have non-drowsy Dramamine then. What a difference! Can I just say that I am so happy that Dramamine not only makes a non-drowsy motion sickness relief but that it is also natural? You'll find clinically tested ginger in this product and it is safe to use daily!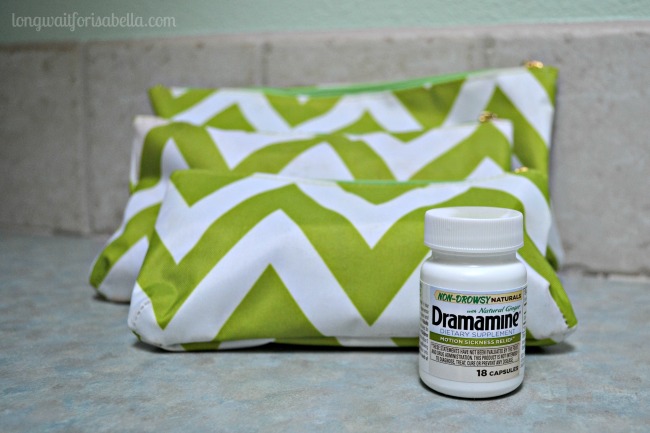 [Tweet "First non-drowsy natural motion sickness relief >> Get #Dramamine today!"]
Now this bottle comes with me where ever we travel. I won't leave home without it. For more information about Dramamine Non-Drowsy Naturals and other Dramamine products and to download a coupon, visit www.dramamine.com.
I was selected for this opportunity as a member of Clever Girls and the content and opinions expressed here are all my own.