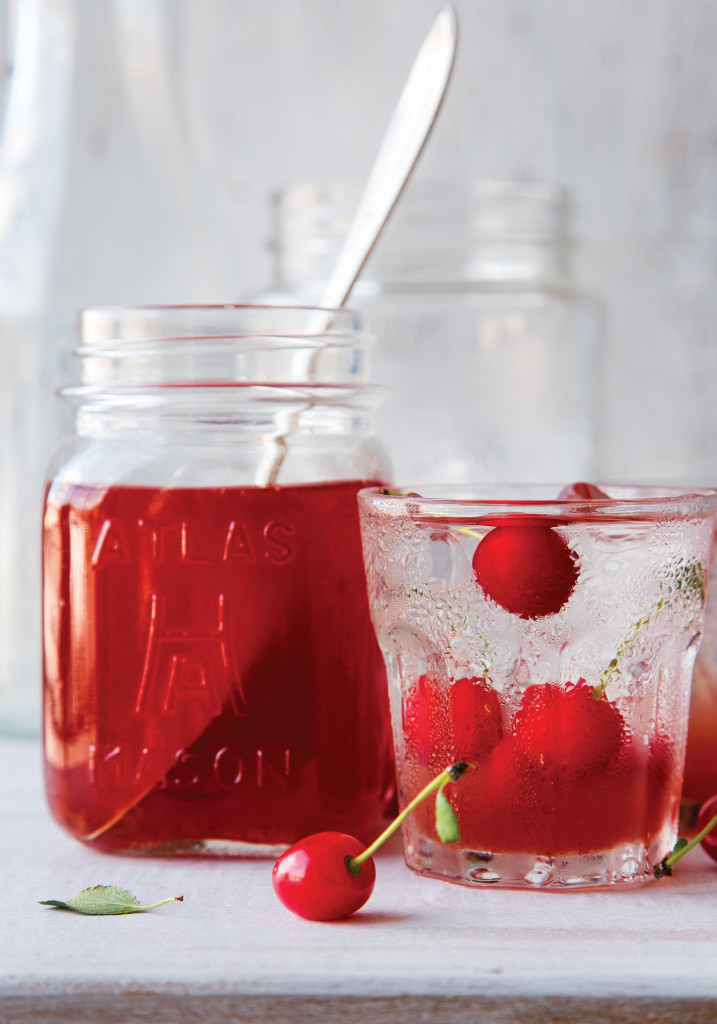 What is your favorite summer drink? My mom has a few cherry trees, so this Sour Cherry Lemonade Concentrate recipe is one that I want to try this summer for sure! Make this syrup ahead of time and enjoy it on a hot summer's day. If you're on your own, add a few tablespoons to a glass of ice water, then refrigerate the rest for the next time you get thirsty. If you're serving a crowd, pour the whole jar into a big pitcher and dilute to taste.
Sour Cherry Lemonade Concentrate Recipe
Ingredients
1 lb pitted sour cherries
3 cups granulated sugar
Pinch salt Pinch
Grated zest of 5 lemons, divided
2 cups water
1 1/2 cups freshly squeezed lemon juice
Directions
Prepare the jars and lids.
In a large pot, combine the cherries, sugar, salt, zest of 3 lemons and water. Bring to a boil over medium-high heat, stirring to dissolve the sugar. Reduce the heat and simmer gently, stirring occasionally, for about 15 minutes to coerce the cherries into letting all their juice flow.
Pour the cherry mixture into a fine-mesh sieve set over a deep container. Push down against the cherries to extract as much liquid as possible. Stir the remaining lemon zest and the lemon juice into the syrup.
Pour syrup into the hot jars to within 1⁄2 inch (1 cm) of the rim. Wipe rims. Place the lids on the jars and screw the bands on until fingertip-tight. Process in a boiling water canner for 15 minutes.
Makes about three 1 pint jars.
Tips:
If you don't have a kitchen scale, you'll need 3 cups pitted sour cherries for this recipe. To make 1 1/2 cups of lemon juice, you'll need 8 or 9 lemons.
Pin it for later:
You can find this recipe and so much more in the Preservation Society Home Preserves: 100 Modern Recipes.
Besides the sumptuous jams, jellies and marmalades, you'll also find recipes for syrups, marinades, chutneys and conserves, as well as 18 recipes that use the original preserves.
[Tweet "Get recipes for jams, jellies, marmalades and so much more! #PreservationSociety"]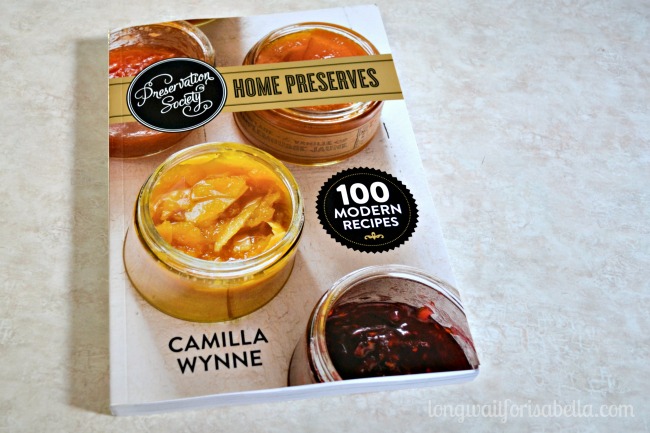 In this gorgeous book, you'll find 100 inspired recipes for jams, jellies, marmalades, pickles and more! One lucky Long Wait For Isabella reader will win their own copy of this awesome recipe book. Enter the Rafflecopter form below for your chance to win. Open to US and CAN residents 18+.
Disclosure: Courtesy of Preservation Society Home Preserves by Camilla Wynne, 2015© www.robertrose.ca Reprinted with publisher permission. Available where books are sold. I was sent the above book for review. No other compensation was given. All opinions are mine alone.