This is a sponsored post written by me on behalf of Tom's of Maine for IZEA. All opinions are 100% mine.
Yes, you read that title correctly. I have had a crazy busy week. The weather has been very warm for Western Washington and I switched back to a natural deodorant. Would you like to hear all the awesome details?
This week we got our house painted. It was worth it, but somewhat stressful. Thankfully, we had sunshine and warm weather the entire planned job. Whew! You never know what the weather can be like here in Western Washington. Our doors had stay open. My husband was pretty busy the entire time, and my children have abundant energy.
Busy Husband + High Energy Kids = Tired Mommy
I've never been so sweaty and tired; at least not for a long time. During the last few days, we pulled out the water slide, the water table, hiked a nearby park, and went for a long family bike ride. And guess what? That new natural deodorant I switched to? It worked quite well.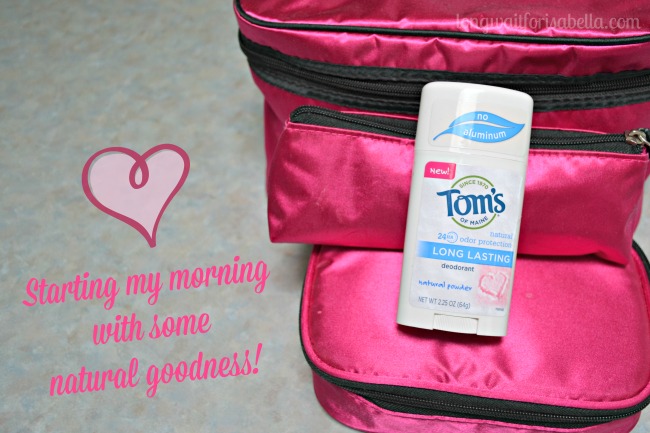 Have you had the chance to use Tom's of Maine products yet? We've actually been using them for years. In fact, my husband was breaking out under his arms from all other deodorants until he switched to Tom's of Maine. But, me? I wasn't using the deodorant yet. I wasn't sure that I trusted it.
I am telling you Tom's of Maine really does work. I'll be honest. I don't sweat a lot – my shirts aren't wet from underarm sweat. So this product is perfect for me. This natural deodorant offers 24 hour odor protection but it is not an antiperspirant. So make a note that this is an anti-odor natural deodorant and if you perspire a lot you made need to find an antiperspirant.
I feel much better using a natural deodorant. I've talked many times here on the blog about using natural products on my kids but not really living up to it in my own health and beauty products. I'm so glad I made the switch. It really does matter what's inside.
[Tweet "Moms, you need to take care of yourselves too!"]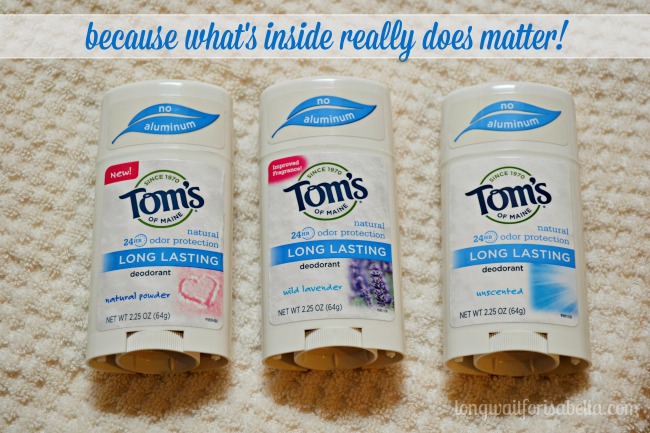 The Long Lasting Natural Deodorant from Tom's has been a bestseller for decades. They've now introduced some new scents and as always their natural deodorant is aluminum free, artificial fragrance free, and free of petrochemicals and parabens. Tom's of Maine does not test on animals and there are no animal ingredients found in this deodorant.
That's important to me. What about you?
Give Tom's of Maine a try! Make the switch.
Remember, when trying a natural deodorant for the first time it may take your body time to adjust to the new product that is free of chemicals. Don't assume it won't work after the first day of trying it. Give it a week to see if it works for you. You'll be glad you've made the switch. I know I am!
Connect with Tom's of Maine
Facebook // Twitter // Instagram // YouTube
Would you like to see the after picture?