Does anyone love York Peppermint Patties like I do? Two days ago, I had to refrain from eating the last of those yummy patties from my son's remaining Easter candy. I seriously love mint and chocolate anything.
Did you know it is easy to make your own homemade Peppermint Patties? So easy…
Homemade Peppermint Patties Recipe
Ingredients
½ Cup Butter, softened
7 oz. Marshmallow crème
1 teas. Peppermint Extract
1 teas. Vanilla Extract
5 Cups Powdered Sugar
1 pkg. (24 oz.) Chocolate Almond Bark
Instructions
In a bowl mix together the Butter, Marshmallow crème, Peppermint and Vanilla extracts. Slowly add in the Powdered sugar. If you using a mixer use the paddle, it gets pretty stiff and will bend the whisk, found out the hard way.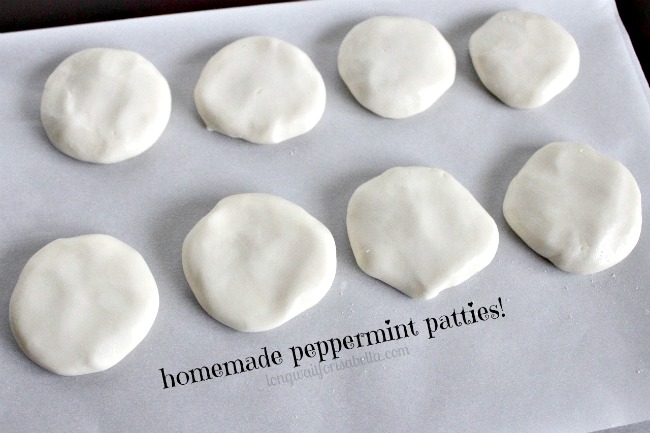 Scoop out a rounded teaspoon of the mixture and roll it into a ball, flatten into a disk about 1/8 inch thick. Place on parchment paper lined plate or tray. Place in the freeze for at least one hour.
In a microwave safe medium flat bottomed bowl melt half of the Almond bark in the microwave on high 90 seconds, stir until smooth, if not melted heat in 20 second increments stirring after each until it is smooth.
Remove the frozen patties a few at a time and place into the melted bark use a spoon to cover the top. Use a fork to pick up underneath the patty and tap straight up and down on the side of the bowl to even out the coating and remove some of the excess. Place onto another piece of parchment and let set. Melt additional Almond bark as needed.
Enjoy!