This is a sponsored post written by me on behalf of Weight Watchers® Ice Cream. All opinions are 100% mine.
Since January, I've been working on a real lifestyle change. I haven't blogged much about it. Maybe I am nervous about jinxing it. But, I've been sticking with my commitment to the local gym 3-5 days per week and paying attention to my food intake.
It is paying off in many ways. The best way of all – I feel better. This year I haven't been cutting out foods, just paying attention to how much of it I am eating. I also have more energy (if that's possible with two young kids) and just feel happier.
Choosing to be healthy and happy is a BIG WIN!
After busy long days, I still treat myself after the family goes to bed. I am just making better choices on what I treat myself with. In fact, surviving the day to day trials of motherhood is a win in my opinion. So I've found a great treat this Spring – Weight Watchers Ice Cream. I am seriously in love. 
My husband found these tasty and satisfying treats in my freezer this week. He asked if he'd like it. I lied. Yes, I did. I am not ashamed to admit it. I told him that no, he probably wouldn't. Terrible, right? I just don't want him to eat my whole box. They are my crazy delicious ice cream treats!
Have you tried Weight Watchers Ice Cream yet?
Weight Watchers® ice cream comes in bars, cones and sandwiches. Flavors include Giant Chocolate Fudge Bars, English Toffee Crunch Bars and Dark Chocolate Raspberry Bars. You can find them at your local top retailers like Walmart, Target, Kroger, and more!
Celebrate the winning moments in your life and try it today. Seriously.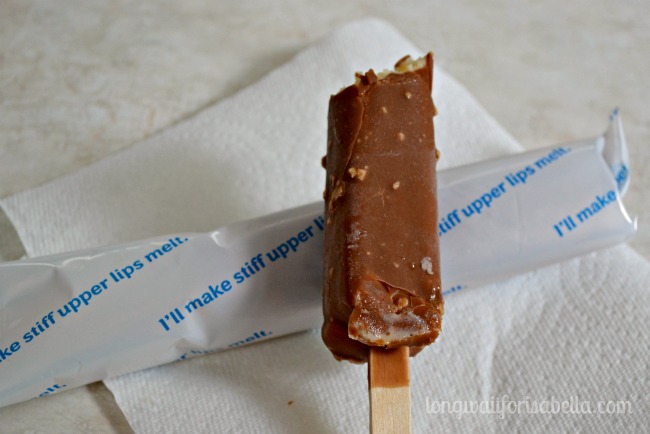 Disclosure: WEIGHT WATCHERS on foods and beverages is the registered trademark of WW Foods, LLC. WEIGHT WATCHERS for services and PointsPlus are the registered trademarks of Weight Watchers International, Inc. Trademarks are used under license by Wells Enterprises, Inc. ©2015 Weight Watchers International, Inc. All rights reserved.