Our local big box store had an amazing sale on 3 piece toddler boy clothes. We were able to buy a t-shirt, polo shirt, and a pair of matching shorts in a popular skater boy brand for a reasonable price. I can never pass up a good deal – especially on toddler clothing. I don't know what I was thinking when I bought one with a white t-shirt. White! Just call me crazy. How in the world will I keep that thing clean the rest of Spring and Summer? Ugh!
As you can see, my Little Man not only gets his food on his face but he also loves wipes his hands in his hair. EVERY SINGLE DAY. There are many perks to being a boy mom, cleanliness (or his aversion to cleanliness) is not one of them.
[Tweet "Being a boy mom is great – but I don't understand his aversion to cleanliness. #clevermethod"]
Rain or shine, my Little Man is playing outside. His clothes take a beating. There is not a day that goes by that he wears the same thing all day. We always change him due to food, drool, dirt, blood or poop. I won't even tell you how many times he has gotten poop all over his clothes and himself. I will also spare you the pictures. It's been bad. Really bad.
In our house, we do laundry every two or three days for our family of four. If we don't it will pile up way to quickly. My Little Man's clothing is a large portion of that laundry. It's to be expected.
[Tweet "No one told me how much laundry I'd be doing! #clevermethod"]
Thankfully, we have a great laundry detergent.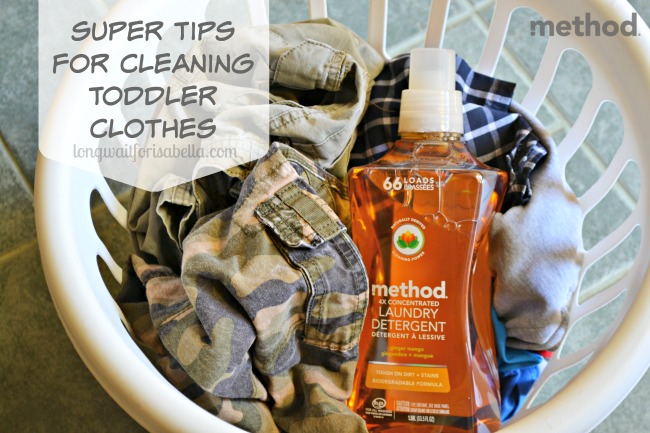 Cleaning Toddler Clothes
So you want to know what I am doing to keep his clothes clean and stain free? Here are three things I am actually doing with laundry that seem to work very well for me:
rinse all stains in cold water right away
dab a bit of laundry detergent on the stain before washing
use the pre-soak cycle on the washing machine
What tried and true laundry tips do you have?
Do you know why I love Method Laundry Detergent? Of course, the 4x cleaning power is a perk. But I love that Method is naturally derived and still cleans well. There is an unfortunate idea that natural products don't work as well when cleaning. But that is not the case with Method. It works well in cold water (which we always wash in) and it fights those tough stains (and wins). The laundry detergent bottle is made with recycled material and it is also fully recyclable. The Ginger Mango scent? Oh my. It is so amazing. You'll also find this detergent in Beach Sage, Fresh Clover, Spring Garden, and Free+Clear.
[Tweet "Method: Your clothes will thank you! @methodtweet"]
Method Goodies
Method ASOS Sweepstakes // Use code THREEFORME to save $3 Online Purchase
I was selected for this opportunity as a member of Clever Girls and the content and opinions expressed here are all my own.