This post is sponsored by Prolaris and Myriad Genetics via Global Influence.

Did you know that 1.2 million biopsies a year lead to 240,000 prostate cancer diagnoses and 30,000 deaths? I did know that prostate cancer is the 2nd leading cause of cancer related death in the United States but actually seeing the numbers? Wow! That is why it is important that we all get educated about this form of cancer.
I lost my grandfather to bone marrow cancer. I lost my grandmother to lung cancer. My sister-in-law is currently living with terminal brain cancer. I hate cancer. Any way that I can share on this website about cancer and early detection, I will. Education is important.
What is Prolaris?
Prolaris is a genetic test for prostate cancer from Myriad Genetics Laboratories that combines traditional risk factors with molecular assessment. Prolaris is the only test that measures how fast prostate cancer cells are dividing. The information obtained from this test greatly impacts the treatment choices that someone diagnosed with Prostate cancer would choose.
When 1 and 6 men are estimated to receive a prostate cancer diagnosis, a genetic test like this is timely. The men in your life are worth it!
[Tweet "ATTN WOMEN: Become educated about prostate cancer! + $2K Sweepstakes"]
$1000 for You, $1000 For Him Sweepstakes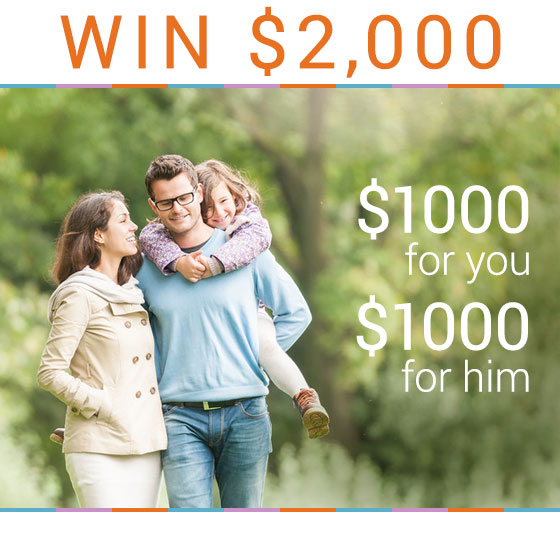 Because getting informed about prostate cancer is so important, Prolaris is sponsoring an amazing sweepstakes. $1K for you and $1K for him! Simply enter your email and the email of a man that you care about to receive a series of 3 emails about prostate cancer. That's it. So easy!
Enter now for your chance to win! Don't wait.
Open to U.S. and Canadian Residents. Winner will be notified via email. One winner will receive $2000 ($1000 for the contest entrant and $1000 for the person that they entered). Two $1000 Visa Gift cards will be sent. Contest ends Friday, May 1st 2015.